'Architects must rescue us from blankness of homes designed by those without training or history,' says Malthouse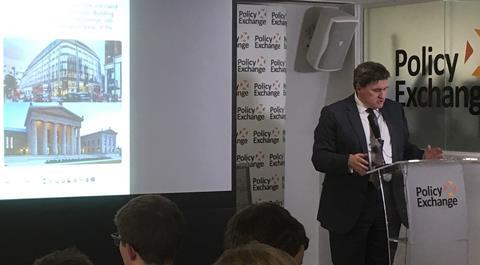 Housing minister Kit Malthouse claimed Roger Scruton's controversial beautiful homes commission will "heal the scar tissue" that has built up between traditionalists and modernists.
He claimed the government wanted to "let architects rip" rather than "poking them with a stick", and said there was room for all styles in the drive to build 300,000 homes a year.
Malthouse, speaking at Policy Exchange, the think tank that inspired the Building Better, Building Beautiful Commission, swung between trying to mollify architects and accusing them of being defensive and unwilling to design what the public wants.
He indicated that the government wished to use land values to push volume housebuilders to make good design a higher priority.
"Only 9% of our homes are designed by architects. Most of them are designed by people with no training in design and no history in it," he said.
"We have some of the best architects in the world yet looking at many of our new developments you wouldn't think so.
"We need architects to rescue us from the blankness that so many people complain about in modern domestic architecture.
"We want to give more space to architects to create the places and the homes to enhance the character and nature of our neighbourhoods and areas."
Both built in the last 10 years. One will stand for centuries, one won't. Our new "Building Better, Building Beautiful Commission" will help us creat the conservation areas of the future. #MoreBetterFaster pic.twitter.com/FJcwcbxb8D

— Kit Malthouse MP (@kitmalthouse) November 4, 2018
He added: "It's critical to our 300,000 mission that we get this beauty conversation correct and that we get everybody singing from the same hymn sheet, that the architectural profession stops being so defensive about the preferences of the public and that we all work together to release whatever value is locked up in land proceeds to allow the architectural profession to spread among the housebuilders and do what they do best, which is to design beautiful things."
When the government announced the commission earlier this month and said it would be chaired by Scruton architects reacted with anger.
Malthouse provoked further "vitriol" from architects when he sent a tweet showing Park House, Robin Partington's 2012 glass-and-steel retail scheme on Oxford Street, and a classical-style court house in Alabama with the words: "Both built in the last 10 years. One will stand for centuries, one won't. Our Building Better, Building Beautiful Commission will help us create the conservation areas of the future. #MoreBetterFaster."
The response showed him that "what we are dealing with is a really fractured and difficult argument where the architectural profession assumes it is under siege, whereas what we have to do as a department is to let architects rip, is to let them run. There must be room for both traditional as well as modern, whatever modern means".
He added: "When architectural profession feels threatened it gathers together and awards each other prizes. What would be fantastic is if they started to build stuff that instilled enthusiasm in the public for what they are producing.
"We hope the commission will start the work of healing the scar tissue that's built up between the two in the hope we can fulfil the natural aspiration of the British people.
"What we want is to turn NIMBYs into SLIMBYs – something lovely in my backyard."
He later tweeted some other projects, including one by Peter Barber, and said he hoped that at the end of this century Britain would be looking at what is built today "not through the windscreen of a bulldozer, as we are with so much of the stuff from the 60s and 70s, but with a regulation notice to protect it for future generations".
RIBA president Ben Derbyshire, another of the event's speakers, welcomed Malthouse's "engagement" and said architects – far from being defensive – were ready and willing to accept the challenge.
But he said it was down to the government to ensure good design became part of the housebuilders' business model.