But scheme will require demolition of Walters & Cohen children's play area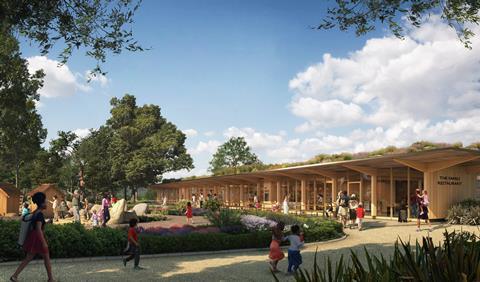 HOK has lodged plans for a timber-framed family restaurant at the Royal Botanic Gardens in Kew that it says will "inspire the next generation to learn about the importance of plants and fungi".
But the 165-cover structure will require the demolition of a 1,200sq m children's centre designed by Walters & Cohen and completed in 2004 at a cost of £800,000.
Planning documents submitted to Richmond council earlier this month describe Walters & Cohen's glass Climbers & Creepers centre as "not fit for purpose … due to the hard surfaces and potential for broken glass".
HOK's design and access statement said the glasshouse had been designed to store plants during the renovation of Kew's Palm House, only to be converted to "temporarily" serve another purpose. However the practice added that its proposals would reuse the concrete slab on which Climbers & Creepers currently sits. HOK's proposals have a slightly smaller gross internal area – 1,124sq m – than the Walters & Cohen centre.
HOK associate and project lead Stuart Ward project said the new family restaurant would "reflect its surroundings" and feature a bio-diverse roof on which nature could thrive.
"There is a simplicity and natural rhythm to the design which reflects the surroundings at Kew Gardens and the language of the other buildings, both old and new," he said.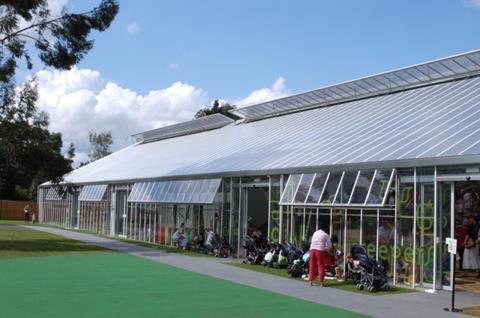 "We have utilised raw, tactile and robust materials and exposed detailing to create a space that is stimulating and engaging to children and young people that also supports the restaurant's dual purpose as a place to learn and a place to dine."
He added that the new restaurant would boast column-free dining space that opened on to an outdoor dining area, maximising flexibility at the same time as creating connectivity between the inside and outside.
HOK said Kew wanted to open the restaurant in 2021, subject to planning consent. Richmond is currently consulting on the proposals.