Others who worked on project include Mizzi Studio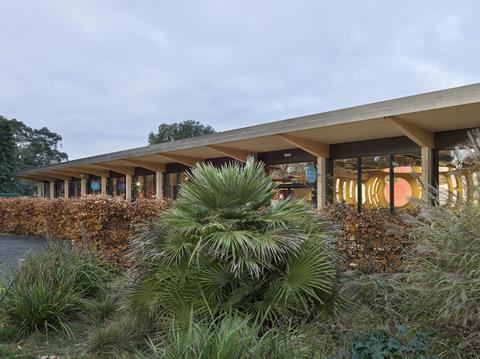 An HOK-designed timber kitchen and shop with front of house interiors by Mizzi Studio and Lumsden Design has opened at Kew Gardens.
The 1,150m² facility providing 250 covers was built to complement Kew Gardens' recently opened Children's Garden and aims to educate children about where their food comes from as well as the value of healthy eating.
Stuart Ward, HOK associate and architect, said: "The elegant timber frame accommodates a flexible front of house space which can take on multiple layouts and is inherently future proof."
Mizzi Studio, which designed the Royal Parks coffee kiosks that opened in the summer 2019, said it had created interiors that would make humans appear the size of small creatures living in gardens forests and woodlands.
Jonathan Mizzi, director at Mizzi Studio, said: "Our goal has been to design a space that celebrates nature and learning, helping to make children and parents excited about food growth, hygiene and preparation." His firm also wanted children to "fall in love with nature, so that they will instinctively treasure and protect it as they grow", he added.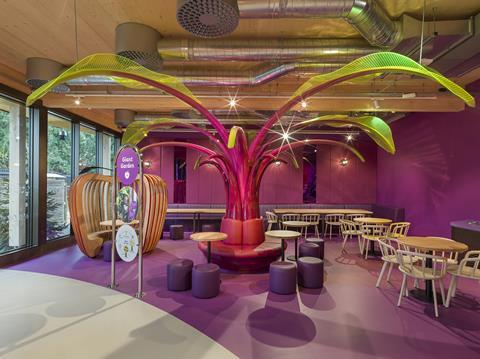 Lumsden Design designed the retail space, which it described as "colourful" and "welcoming", which the firm's design director James Dwyer hoped would "not only drive significant revenue but also enhance the visitor experience".
CityAxis with Mulroy Architects also provided design development, interior design and D&B delivery for the restaurant and shop, which opened last week.
To reduce the energy consumption of the building through its lifespan, it has photovoltaic panels on the roof and a heat recovery system. Its designers believe it is on course to achieve Breeam Excellent and say it has a carbon reduction of more than 50% against industry benchmarks.
The building was designed to help reach the Royal Botanic Gardens' commitment of going beyond achieving net zero carbon emissions, to be "climate positive by 2030.