Flagship project opens overlooking Serpentine
Mizzi Studio's coffee house overlooking the Serpentine Lake in London's Hyde Park has opened.
The semi-transparent kiosk takes its inspiration from an ancient Japanese tea house with its canopy designed to resemble a stingray swimming through water, said the architects.
The 11 x 9m canopy is reinforced with carbon and glass fibre and has been hand-painted to give an aged-brass finish. It is textured on the underside with snakeskin-inspired, coffer-like dimples. It tapers towards its edges and cantilevers over the glass structure below to create open-air seating, with capacity for 60 people to sit under and around it.
The kiosk is part of a wider commission the London architect has been asked to carry out at 10 sites across the capital's Royal Parks. Each free-standing structure has been detailed in response to the nuances of its site.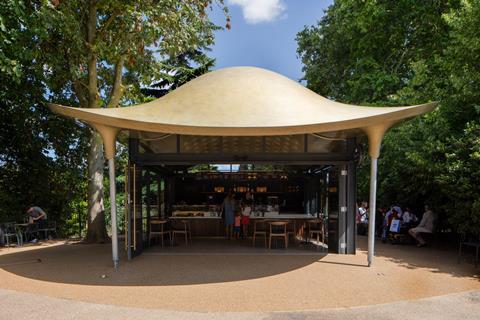 Work on the final three kiosks will be completed this autumn, including a brass Horseshoe kiosk in St James's Park, with Buckingham Palace as its backdrop, and two steam-bent oak structures in St James's Park and Hyde Park.
Jonathan Mizzi, founder of Mizzi Studio, said he was "honoured" to have been asked to create the outlets in such beautiful settings.
Of the Serpentine venue he said: "Visitors will be greeted by the welcoming smile formed by the coffee house's curving canopy, before the glistening reptilian underbelly is revealed, providing a haven to pause and appreciate nature in the city."
All pictures by Luke Hayes