£570m station and new public realm given the green light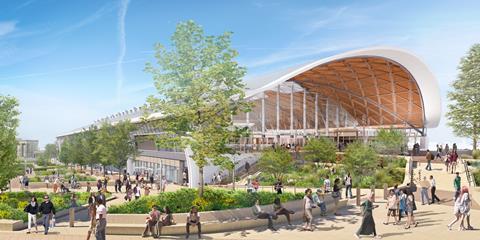 Grimshaw's HS2 Curzon Street station in Birmingham has been given planning permission by the city council, the first phase one station to be approved.
Three planning applications for the £570m station and the surrounding landscaping were approved by the council's planning committee during a virtual meeting earlier today.
A council report recommending the scheme for approval said: "The elegant and (deceptively) simple form of the main station building clearly reads as a railway station and harks back to traditional station architecture, delivering this in a confident and contemporary way."
It also said the station's public realm "provides a high-quality urban environment" and "will be of much wider benefit than just users of the station, providing key connections to the knowledge quarter and Digbeth".
Two major new public spaces and two station concourses will be created as part of the project, together with new pedestrian and cycle links.
The news follows the government's decision on April 15 to give the green light for construction to begin on the first phase of HS2, including high-profile viaducts designed by Moxon and Grimshaw. That work does not include the stations but does include tunnels and other bridges.
Curzon Street station will be the first new intercity terminus station built in the UK since the since the 19th century.
It will form an integral part of a major new transport interchange, bringing together HS2, Moor Street Station, West Midlands Metro tram and new bus facilities.
Grimshaw partner Neven Sidor described the design as "reflecting West Midlands' industrial heritage through 21st-century means, conveying humanity to its public spaces through a finely modulated arched structural frame spanning 70m interspersed with warm soffit".
He said Grimshaw's contribution to HS2's Station Common Design Elements programme was also embedded in the scheme, in an attempt to achieve a consistent identity for repeated components across the national HS2 network. One example is a multi-function "totem" which clusters lighting, CCTV, customer information, wifi and public address speakers in one unit, allowing safe and easy maintenance at low-level.
The architect has been working on its design for two years with WSP and HS2 on the station which HS2 said would extend the reach of Birmingham city centre eastwards by half a kilometre and help to drive regeneration in Digbeth.
Progress on the site of the new station has included a massive archaeological programme, involving 70 archaeologists, unearthing the world's oldest railway roundhouse.
The site has been cleared by a joint venture between Laing O'Rourke and Murphy with utility diversions set to begin this summer.
Procurement for the main contractor has already started, with invitations to tender set to be launched in the summer after HS2 cancelled its previous procurement process.
Work will also include revamping Philip Hardwick's grade I-listed 1838 London-to-Birmingham railway terminus building, the surviving entrance to the site's previous station which closed in 1893 after just 55 years.