Cladding specialist lacked staff qualified to check materials but got discount worth £41,000 on combustible insulation panels, inquiry hears
Cladding contractor Harley Facades' work on the fatally-flawed refurbishment of Grenfell Tower was the focus of the inquiry into 2017's fire tragedy for the second week running this week.
The inquiry heard about a £200,000 estimation error made by the firm in its quote to main contractor Rydon that prompted it to favour the installation of aluminium composite material (ACM) cassettes on the exterior of the west London tower, rather than flat-panel ACM.
It also heard claims about the level of product checking that was conducted by the firm for the statutory compliance of materials that were at odds with earlier evidence from company director Ray Bailey.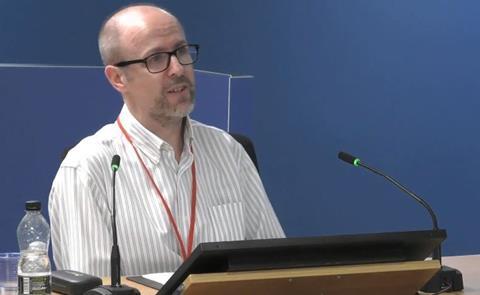 Additionally, inquiry chair Sir Martin Moore-Bick's panel heard that Harley Facades had a shortage of in-house expertise to devote to the Grenfell Tower refurbishment project, and had to bring in hired-help to act as "project designer" for the cladding system it was tasked with delivering.
On Monday, Mike Albiston – Harley's estimating manager at the time of the Grenfell project – said he had made an estimating error in the quotes given to Rydon for the ACM cassette and flat-panel alternatives to the originally-proposed zinc cladding.
He said he had been "horrified" when he discovered the error, which meant the cost of flashing, smoke stops and crown supports had been left off the prices given for Reynobond PE 55 ACM panels.
The inquiry heard that the error involved a price-hike of £200,380 for either Reynobond option, while a low pricing given on the flat panels would mean an "additional shortfall of around £37,650 if face fix was selected".
It also heard evidence that Harley had become keen to use the cassette version of Reynobond ACM after the error emerged.
Last week Harley boss Ray Bailey told the inquiry he had not been aware that Reynobond manufacturer Alcoa had test results in France that showed the cassette version of PE 55 had significantly worse fire performance than the face-fix version.
Daniel Anketell-Jones was next up for Harley. He held a range of roles at the firm between 2006 and 2016 and was design manager at the time of the Grenfell project.
On Monday, Anketell-Jones said he disagreed with Bailey's description of him as "technical manager" at the time of the Grenfell project. He said he had not begun to move into that role until later when he completed the first module of an MSc in façade engineering at the University of Bath.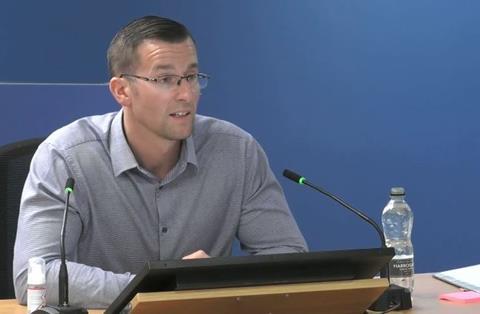 "I don't think I was made the technical manager until the end of 2015, beginning of 2016 perhaps," he said. "I hadn't had any training in that area yet."
He told the inquiry that as a structural engineer he was only qualified to advise on the structural performance of construction products in relation to the Building Regulations at the time he was working for Harley.
He said his line managers were "fully aware" of what his areas of expertise were.
On Tuesday, Anketell-Jones went further in his description of Harley's in-house technical-checking work, telling the inquiry that there had been a two-year period when nobody in the firm had been qualified to do even a "cursory check" on the fire performance of materials.
"There wasn't anybody in the business who could do that," he told inquiry barrister Kate Grange QC. "So we did it individually by satisfying ourselves as well as we could by passing it back."
Anketell-Jones said that by "passing it back" he meant obtaining product data sheets from suppliers and sending them to "the client's design team and Building Control for approval".
He explained that by "design team" he meant project architects, structural engineers, and fire consultants.
Grange asked Anketell-Jones whether, as far as he was aware, any cursory examination of the fire performance of the materials used for Grenfell Tower's external envelope was ever done by Harley.
He replied: "Not as far as I'm aware, no."
In his evidence last week Harley boss Bailey said the firm carried out extensive checks on products that had not been used before – such as the Celotex RS 5000 insulation fitted to Grenfell Tower, although he said checks on previously-used products were "very quick".
Tuesday's inquiry session heard that insulation supplier SIG had given Harley a 47.5% discount on the 660 Celotex RS5000 panels it quoted for in relation to the Grenfell refurbishment. The discount was worth almost £41,500.
The Grenfell Tower Inquiry's phase one report found that he combustible insulation materials used behind the ACM cladding and to fill gaps in the window areas "contributed to the rate and extent of vertical flame spread" on the night of Grenfell Tower caught fire in June 2014.
Celotex RS5000 was the main insulation material used behind the Reynobond ACM cassette panels, which were identified as the principal cause of fire spreading so rapidly up the building's east side and then around the entire structure.
On Wednesday, Anketell-Jones told the inquiry that he had expected the ACM fitted to Grenfell tower to melt rather than burn in the event of a fire at the time Harley was working on the new building envelope.
Asked about an email at the time in which he said the ACM would be "gone rather quickly in a fire", he said he had not been thinking about the polyethylene core of the ACM when he had made his comment, but the melting point of aluminium.
Throughout his evidence to the inquiry, Anketell-Jones said that he had little involvement in Harley's work on Grenfell Tower because he had been working on other projects. He said his role as "design manager" had essentially been making sure hired-in "project designer" Kevin Lamb was keeping on track.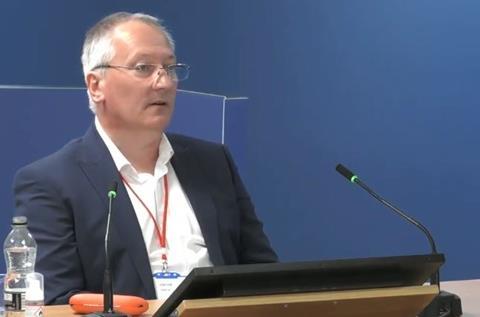 Anketell-Jones said that although he had been presented to Rydon as "design lead" for the Grenfell project, this had been a "stop gap" to reassure the main contractor at a time when Harley lacked in-house capacity to deal with the project.
Harley's final witness of the week was Kevin Lamb, who is a former boss of Anketell-Jones and works as a freelance draughtsman, trading as Bespoke Design Services.
Lamb was enlisted to help with Harley's work on the Grenfell Tower refurbishment in the summer of 2014.
He told Wednesday's inquiry hearing that although he was given business cards with the title "project designer", he had been hired by Harley to act as a drafting service to transfer Studio E's drawings for the Grenfell refurbishment into fabrication drawings for the external cladding system.
Lamb said the job title he was given had not stopped him from "being quite clear that I was working through their technical team".
He was questioned at length on Thursday about the issue of cavity barriers that were unclear on Studio E's drawings for the Grenfell refurbishment. Cavity barriers were subsequently not installed around windows of flats in the tower during its disastrous upgrade.
Lamb said he believed the architect was planning an alternative route to compliance with the cavity barrier requirements, compared to that set out in Approved Document B of the Building Regulations.
He was repeatedly asked why checks were not made with the architect to confirm its intentions for the safety measure but said that he was told by his line managers at Harley to follow the drawings supplied by Studio E.
He said Studio E had accepted the drawings returned to it from Harley and that was taken as a stamp of approval of the work from the architect.
"By virtue of following drawings, we've produced our drawings and he's approved them," Lamb said of the architect. "You can expect that he's happy that there is conformance."
Lamb also rejected the suggestion that Studio E had supplied Harley with early-stage drawings and that it "would have been obvious" to the facades specialist that its job was to develop the design with regard to cavity barriers.
"It wasn't my understanding that was what we were doing," he said. "I was told to follow these drawings."
The inquiry continues.