Harley's estimating manager admits cost impact was 'minimised' by choice of covering eventually installed on block
Grenfell Tower cladding contractor Harley had a particular interest in using Reynobond ACM cladding cassettes on the ill-fated refurbishment project because it lessened the impact of a costing error for the job, it has emerged.
Reynobond PE 55 aluminium composite material (ACM) panels were used on Grenfell Tower in preference to a face-fixed version of the same product. It has subsequently become known that the cassette panels were significantly more combustible than the flat-panel ones, which would have been riveted on.
Monday's hearing of the inquiry into 2017's tower-block fire tragedy, which claimed 72 lives, was told that an estimating error for value-engineering options for the refurbishment omitted £200,000 from the price given to project main contractor Rydon.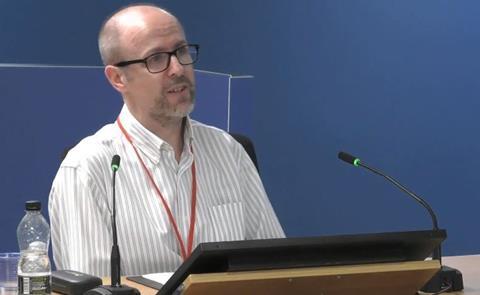 Harley's estimating manager at the time Mike Albiston said the error did not affect the costing given for zinc cladding panels that were client Kensington and Chelsea Tenant Management Organisation's original first choice. But he said the cost of flashing, smoke stops and crown supports had been left off the prices of Reynobond ACM alternatives.
The inquiry was shown a June 2014 email from Albiston to Rydon contracts manager Simon Lawrence in which he said Harley's estimate for face-fixed Reynobond had been "a bit low" while the cassette price had been "more accurate".
He said that while the estimating error would be £200,380 for either Reynobond option, there would be an "additional shortfall of around £37,650 if face fix was selected".
Albiston was asked by inquiry barrister Richard Millett whether it was fair to say his costing error would be minimised by about £40,000 if Reynobond ACM cassettes were selected.
"I believe that's the case, yes," Albiston replied.
Millett asked whether it followed that from Harley's perspective, a cassette system was the better option.
"It would have been, yes," Albiston replied.
Albiston was shown a May 2014 email between Harley commercial manager Mark Harris and Rydon's Lawrence in which the topic of cladding options was broached.
It contained the phrase: "… as discussed on site, our preference would be for cassette for lots of reasons !!"
Albison said the preference was "possibly because of the cost savings".
Monday's hearing was told that project architect Studio E had been positive about the use of ACM cassettes on Grenfell Tower after visiting a project in north-west London where cassettes had been used, and believed Kensington and Chelsea council planners would support such a proposal.
However, the hearing was also told that main contractor Rydon believed face-fixed ACM panels offered the cheapest value-engineering option.
Harley had used face-fixed ACM on the previous projects it had undertaken with Rydon at the Chalcots Estate in Camden and Ferrier Point in Newham.
While Albiston said he had been "horrified" when he had discovered his estimating error in relation to the Grenfell Tower quotes, it was not the only estimating error encountered by the project team.
Rydon's evidence in July revealed that the main contractor had under-priced its tender bid for the project by £212,000 following an error by one of its estimators, referred to at the time as a "Frank-ism" – a reference to a mistake made by Rydon estimator Frank Smith.
On Monday, Albiston was asked whether he had been aware at the time of his work on the Grenfell Tower project that there was a fire performance difference between the cassette version of Reynobond PE 55 ACM and the face-fixed version.
"No, I did not know," he said.
Last week Harley director Ray Bailey was asked about a statement from Claude Wehrle of Reynobond manufacturer Arconic, which acknowledged that tests in November 2013 had indicated Reynobond PE 55 had worse fire performance than the face-fixed version.
Wehrle said French testing organisation the CSTB had indicated that while the face-fix version of PE 55 could get "C" classification under European standards, the cassette version had demonstrated a "flash over" in fire testing and could only get a lower "E" classification.
Bailey said he was "absolutely not" aware there was a fire-performance distinction between the face-fixed and cassette form of Reynobond ACM, and had not been informed of the testing differences by Alcoa – subsequently called Arconic.
The inquiry continues.