Cladding firm's director calls for immediate ban on use of combustible materials, claiming 'widespread confusion' in industry
The boss of the firm responsible for the fatally flawed cladding system fitted to Grenfell Tower has called for an immediate ban on the use of combustible materials in the industry.
Harley Facades director Ray Bailey made his comments at the end of his second day of evidence to the inquiry into 2017's tragic fire, which claimed 72 lives at the west London block.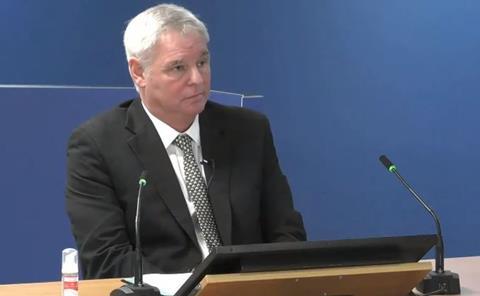 Harley was design subcontractor for the refurbishment project, which saw combustible cladding and insulation that was not compliant with building regulations installed on the 1970s block and ultimately signed off as safe by Kensington & Chelsea council's building control officers.
Bailey (pictured) defended his firm's role in the project but said the certification system and the legislation underpinning it had become complicated and needed immediate reform.
"Looking back to what we knew then; the certification that we had; the industry practices that were used throughout the UK; if we were faced with the same job now, I suspect – I'm pretty certain – that we'd have done it exactly as we did back then," Bailey said of Harley's work on Grenfell.
"Nobody thought for one minute that anything we were doing was unsafe."
But he admitted the knowledge he acquired about the compliance regime since 2017's fire had given him a different perspective.
"Armed with what I know now, with the certification, the testing regimes, the caveats, the misinterpretation of the building regulations – which are not just restricted to us but the whole industry… this stuff: Reynobond, Celotex, Kingspan… none of it would be on the wall."
Bailey told the inquiry that building-safety legislation was "complicated to use" and "not very clear" to understand.
"I think any form of combustible insulation or cladding should be banned immediately," he said.
"When I understand how Class O came into being – some industry self-interest body created this false class and it's clouded everybody's judgment and belief over the past 40 years. Things need to change."
Earlier on Wednesday, Bailey had accepted that he had not properly understood the distinction between materials with the "Class O" rating and those described as having "limited combustibility".
"There's a confusion," Bailey said. "And I think it's quite widespread throughout the industry."
The Harley director said he believed materials with a Class O certification were safe to use on any building, including those above 18m in height.
Inquiry barrister Richard Millett QC said it was "erroneous" to use the terms interchangeably. He said that although materials of "limited combustibility" would qualify as Class O, the reverse was not correct.
Millett asked Bailey if he had ever undertaken any training or CPD in the testing of building products and their different fire classifications.
Bailey replied "no". He gave the same answer when asked whether he felt under a duty to educate himself on the different fire classifications.
Bailey added: "As a specialist subcontractor there are a lot of things we're involved with – fire being one of them. But we're not fire experts."
The Celotex RS000 insulation and Kingspan Kooltherm K15 insulation used by Harley for the Grenfell refurbishment was described as "Class O" by its manufacturers but the materials were not categorised as being of "limited combustibility". Neither should have been used in the way that they were on the block.
Kingspan Thermapitch TP10, which was used for infill panels between windows, should also not have been used.
Millett spent much of today (Wednesday) questioning Bailey about how Harley assured itself that the products being used on its schemes were compliant and fit for purpose.
Bailey said the firm had previously used Kooltherm K15 on other cladding jobs and had British Board of Agrément certificates for it but said Celotex RS5000 was a new product for the firm.
Bailey said Celotex's product information pack for RS5000 – a PIR insulation board – indicated it was "Class O" rated and was suitable for use in buildings of 18m or more in height.
He accepted that Celotex's BR135 certification – covering its use as part of rainscreen cladding systems – was specific to the test system, which was different to Harley's proposals for Grenfell Tower.
Bailey said that was why Harley sought assurances from Celotex that RS5000 would be safe to use with its plans for Grenfell and had sent the company detailed documents.
Millett asked Bailey why the company had not sought independent assurance over the use of Celotex RS5000.
He replied: "Celotex are a major insulation manufacturer. They are a huge operation we do not expect to be misled by them. We trusted what they told us."
Elsewhere, Bailey said his firm had accepted assurances from the manufacturer of the Reynobond aluminium composite material cladding panels used on Grenfell that its products were safe – even though the certification documents did not relate to the exact colour specified for the tower's refurbishment.
Bailey had said Harley did not need to investigate the certification of the Kingspan K15 used on Grenfell Tower as the business had satisfied itself the product was compliant when it was used on earlier jobs.
The hearing was told that the most up-to-date certification for Kingspan K15 at the time of the Grenfell Tower refurbishment did not describe the product as being of "limited combustibility".
The inquiry continues.