Harley engineer had only just started a masters degree in facades when firm was working on the Grenfell Tower refurbishment
The specialist cladding consultant for Grenfell Tower did not have a technical manager in place who was qualified to advise on fire performance at the time products were being specified for the fatally-flawed refurbishment project, the inquiry into 2017's disaster has heard.
Daniel Anketell-Jones told the Grenfell Tower Inquiry on Monday that he was only qualified to advise on the structural performance of construction products in relation to the Building Regulations at the time he was working for Harley Curtain Wall, later Harley Facades.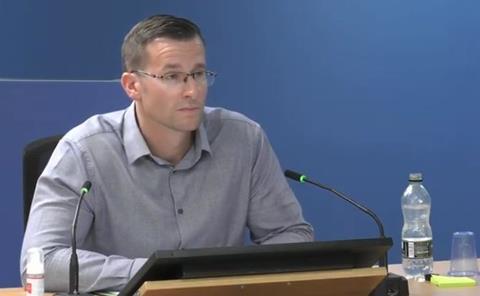 Anketell-Jones said he had no academic training in fire performance until after he left Harley in 2016 but said he had started an MSc in façade engineering at the University of Bath in late 2014 or early 2015.
He told the inquiry into the west London fire that claimed 72 lives that although he had been promoted to the role of design manager at Harley before it was appointed to the Grenfell refurbishment, it was not part of his job to assess the technical compliance of products.
Anketell-Jones said the role had been the responsibility of previous technical manager Graham Hackley but he was not sure who the responsibility fell to after Hackley left the company.
Inquiry barrister Kate Grange QC asked when a successor to Hackley had been appointed.
"There wasn't one appointed until I'd done enough of the degree to start moving into that role," Anketell-Jones replied.
But he said he did not consider himself qualified to assess the technical performance of products at any stage that he worked for Harley.
Anketell-Jones subsequently said that he passed issues that he did not feel qualified to deal with up the chain of command in Harley.
Grange said Harley director Ray Bailey had described Anketell-Jones as the firm's "technical manager" at the time of the Grenfell Tower project in his evidence last week. She asked whether he agreed with the description.
"No, I don't," Anketell-Jones said. "I don't think I was made the technical manager until the end of 2015, beginning of 2016 perhaps. I hadn't had any training in that area yet."
Grange said there appeared to be no email trail that showed Anketell-Jones asking for help from senior colleagues because he lacked the necessary qualifications in fire-safety.
"They were fully aware of what my areas of expertise were," he said.
Anketell-Jones said that at the time of the Grenfell Tower refurbishment project, he did not know that there was a difference between "Class O" rated materials and products classified as being of "limited combustibility".
He also told the inquiry that he did not know what the difference was between a fire stop and a cavity barrier at the time of the project.
Anketell-Jones was asked about his knowledge of relevant guidance on the use of combustible materials on high-rise buildings that was published at the time – including from the Centre for Window & Cladding Technology and the Building Control Alliance.
He replied: "I was looking at structural design and not façade design so I wouldn't've been sent these sort of things. They weren't circulated to me."
Anketell-Jones also said he had not been aware of the contractual arrangements that applied to Harley's work on the project via a letter of intent from main contractor Rydon. The terms gave Harley the same responsibilities for design and statutory compliance that Rydon owed to client the Kensington and Chelsea Tenant Management Organisation.
The inquiry continues.