Main contractor and facades specialist questioned as hearings resume after summer break
The Grenfell Tower Inquiry restarted hearings this week after a month-long summer break and heard evidence from the two contractors with the biggest role in the fatally-flawed tower-block refurbishment that led to 2017's fire.
On Monday, main contractor Rydon's former commercial manager Zak Maynard was quizzed about financial pressures faced by the project before work on site started and difficulties in finding partners for the work.
The inquiry heard Rydon had "struggled" to get interest from cladding contractors that it asked to provide estimates for its bid and that Harley Curtain Wall – later Harley Facades – had been the only one interested in the job.
Maynard told the inquiry that as Rydon had only used Harley on its previous tower refurbishment jobs, its "database or knowledge of subcontractors was probably limited" in a way he thought had restricted its bid work.
He added that it was not unusual for contractors to be reluctant to quote on project bids.
"A lot of people aren't necessarily keen on pricing jobs when they're just not a live job or a firm project. So I think that quite often the estimators come up against that battle," he said.
Maynard was also quizzed about Rydon's attempts to compensate for a £212,000 error in the calculations underpinning its successful £9.2m bid for the Grenfell Tower refurbishment.
Over three weeks of evidence, which started back in July, senior managers at Rydon routinely said they had relied on their specialist contractors to make up for shortfalls in their in-house expertise.
On Tuesday, the director of facades specialist Harley, Ray Bailey, insisted that his firm did not bear ultimate responsibility for the design and materials of the cladding system fitted to Grenfell Tower during the refurbishment.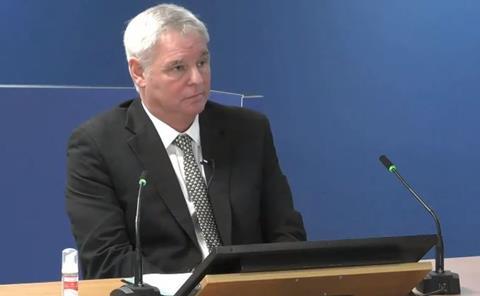 The first phase of the Grenfell Tower Inquiry has already established that the aluminium composite material (ACM) cladding and insulation products fitted to the block were not compliant with building regulations and were responsible for the severity of 2017's fire, which claimed 72 lives.
Asked directly by inquiry barrister Richard Millett QC whether the buck stopped with Harley for the cladding, Bailey replied "no".
He said the firm was just one of a "raft of layers" with design safety input on the project, that included project architect Studio E, fire consultant Exova and Kensington and Chelsea council's building control officers.
"We have our designs and the expertise is in the cladding and how it's attached to the building, how we get it to site on time, how we make it fit," he said. "On particular items, where we're not entirely clear, we ask questions of the architect, of the specialist, of building control, to ensure that it complies."
On Wednesday, Bailey admitted he had a wrongly believed that two categories of fire rating for materials – "Class O" and the "limited combustibility" description – were interchangeable, a confusion he said was shared across the wider industry.
Bailey told the inquiry that Harley had relied on assurances from manufacturers of Celotex RS5000 insulation and Reynobond PE55 ACM panels that the products were safe to use as part of its cladding system for Grenfell.
While product data for both described them as suitable for use as part of cladding systems on buildings above 18m in height, they were not suitable in the configuration used at Grenfell Tower. In the case of the ACM panels, the product data said its certification only applied to a specific colour of the material that was different to the one used at Grenfell.
Asked why – in relation to the Celotex product – Harley did not seek independent advice, Bailey said the firm trusted the manufacturer.
"Celotex are a major insulation manufacturer," he said. "They are a huge operation we do not expect to be misled by them. We trusted what they told us."
Bailey told the inquiry he had not undergone any training or CPD in relation to the testing of building products and their different fire classifications and had not felt under a duty to do so.
"As a specialist subcontractor there are a lot of things we're involved with – fire being one of them, but we're not fire experts," he said.
Given the opportunity to reflect on the Grenfell disaster, Bailey said combustible cladding and insulation should be banned.
He said: "Armed with what I know now, with the certification, the testing regimes, the caveats, the misinterpretation of the building regulations – which are not just restricted to us but the whole industry… this stuff: Reynobond, Celotex, Kingspan… none of it would be on the wall."
Harley Facades' former commercial manager Mark Harris gave evidence to the inquiry on Thursday and was questioned extensively about the firm's seeming preference to use ACM for the tower's refurbishment – and Reynobond ACM manufactured by Alcoa in particular.
Harris denied that Harley had been "pushing Reynobond ACM, or at least ACM, pretty hard" and said the firm had merely been "advising" of ACM as a cost-effective option.
Asked why he had suggested to project architect Studio E that from a "purely selfish Harley point of view" ACM should be used, Harris said the firm was confident about pricing the job using Reynobond ACM cladding but was suspicious of the final cost of zinc option, Proteus HR.
"ACM always proved to be a good product, a good price, and solved a whole raft of issues for these types of jobs," he said.
Thursday's hearing was told that Harris was paid mostly in commission and earned 1% of the value of Harley's work on the Grenfell Tower project, making it worth approximately £26,000 to him.
The inquiry continues, with more evidence from Harley next week.