Harley boss says specialist firm was just one of a 'raft of layers' tasked with making sure tower refurb design was compliant
The director of Grenfell Tower cladding contractor Harley Facades has insisted his firm did not bear ultimate responsibility for the flaws in the block's refurbishment that led to 2017's tragic fire.
Ray Bailey, boss of Harley Facades, told the inquiry into the disaster – which claimed 72 lives – that his firm was just one of a "raft of layers" with design safety input on the project, that included project architect Studio E, fire consultant Exova and Kensington and Chelsea council's building control officers.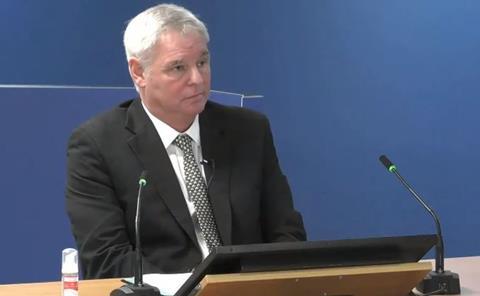 In his first day of evidence to the inquiry, Bailey was quizzed about his experience with high-rise cladding, his knowledge of product safety and his familiarity with Building Regulations and in particular Approved Document B.
Bailey was asked by inquiry barrister Richard Millett QC whether he accepted that as a specialist subcontractor responsible for design, supply and fix of the façade on the Grenfell Tower project "the buck stopped with Harley on products and design". He replied: "No."
Millett asked whether Harley had been reliant on building control officers to make sure its systems were compliant with regulations.
Bailey replied: "Ultimately, yes. […] We have our designs and the expertise is in the cladding and how it's attached to the building, how we get it to site on time, how we make it fit. On particular items, where we're not entirely clear, we ask questions of the architect, of the specialist, of building control, to ensure that it complies."
Under further questioning, Bailey said: "We are not statutory compliance experts, so when we have a doubt about how something is done, we seek guidance and building control are the experts on compliance."
Tuesday's hearing was told that Harley Facades and Bailey's earlier business Harley Curtain Wall – which went into administration in 2015 – never had a formal contract with Grenfell refurbishment main contractor Rydon. Instead, the firm's scope of work was covered by a letter of intent.
Millett asked Bailey whether he had understood at the time that the letter of intent effectively gave Harley the same obligations to project client Kensington and Chelsea Tenant Management Organisation in relation to the cladding design and product compliance that Rydon had to the TMO. Bailey said he did not.
"Can we proceed on the basis that Harley's involvement in this project proceeded without any familiarity at all with what Rydon had promised it would do for the TMO?" Millett asked. Bailey replied: "Correct."
Bailey was asked why he had signed a collateral warranty on the project in 2016 that described Harley as the "design subcontractor" if he wasn't happy with the description.
He said he was "not entirely" happy with the label but Rydon "suggested that if we didn't sign it, we wouldn't get our final payment".
Earlier in the day, Bailey was asked whether it was Harley's responsibility to check the façade drawings it received from project architect Studio E for compliance with statutory requirements.
"Yes, but not in isolation," he replied. He added: "When we received drawings, the drawings from Studio E, and they were issued to us, they're RIBA stage E.
"The expectation is that the design is compliant and we then are producing the production version of the architect's design."
Bailey was asked how Harley would satisfy itself that products to be used as part of a façade system were safe.
He said that when the firm had used a product before and had all the British Board of Agrément (BBA) certificates for it, the checks would be "very quick".
He added that in the case of products that had not been used before – such as the Celotex RS 5000 insulation specified for the Grenfell refurbishment – extensive checks would be conducted.
"Celotex made a big, big deal about their products being suitable, specifically designed for buildings over 18m… they complied with BS8414," he said.
"And then they used the term, which is very misleading looking back on it, 'Class O' [limited combustibility] throughout.
"We not only read the literature; we had their technical sales manager in to go through the project.
"We sent drawings with the application, showing the ACM on the building to them. And I think we carried out all possible reasonable tests; Celotex was produced by a huge multinational company.
"We didn't believe for one second that they would attempt to mislead us on this."
The first phase of the Grenfell inquiry found that aluminium composite material (ACM) cladding panels – which had polyethylene cores – fitted to the block were the principal reason that fire spread so rapidly on 14 June 2017.
However, the presence of polyisocyanurate (PIR) and phenolic foam insulation boards behind the ACM panels, and as components of the window surrounds, "contributed to the rate and extent of vertical flame spread".
Celotex RS5000 is a PIR board that was described by its manufacturer as having a Class O or "limited combustibility" rating. In 2018, BRE said Celotex had "identified anomalies" with the tests on which RS5000's BS8414 compliance had been based.
Also on Tuesday, Millett asked Bailey whether he had been aware of a spate of cladding-related fires on high-rise buildings in the United Arab Emirates in 2012 and 2013.
"The fires that happened abroad were not reported, so we weren't aware of those," he said.
Bailey disagreed with the proposition that as a specialist cladding contractor Harley should have been aware of the dangers associated with ACM panels that the fires illustrated.
The inquiry continues.