Main contractor's commercial manager says Harley Facades was only specialist the firm had ever used
The main contractor on the refurbishment of Grenfell Tower lacked cladding subcontractor contacts and struggled to attract interest from firms in the sector apart from Harley Facades, the inquiry into 2017's fire disaster has heard.
Former Rydon commercial manager Zak Maynard told the Grenfell Tower Inquiry that the business had not been able to get estimates for recladding the west London tower block from firms other than Harley as it assembled its tender for Kensington & Chelsea Tenant Management Organisation.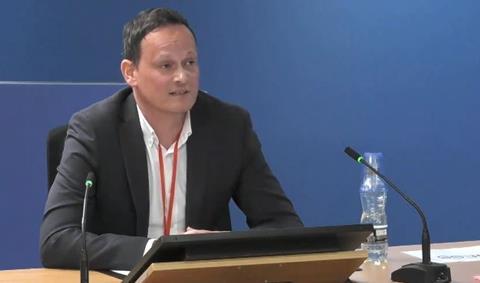 Giving evidence to the inquiry, which resumed today (Monday) after a five-week summer break, Maynard – who was Rydon's managing surveyor at the time the firm was appointed to the Grenfell job – said completing the tender package for the work had been a challenge in early 2014.
Inquiry barrister Richard Millett QC asked Maynard about an internal email from Rydon estimator Katie Bachellier in which she talked about the difficulties the firm was encountering in pricing the Grenfell job in time for the submission and that it may be necessary to ask for an extension on the tender deadline.
Bachellier added: "We could also cite the fact that we are struggling to drum up any interest from cladding contractors."
Maynard agreed that Rydon's ability to get its bid together for the Grenfell refurbishment had been a threat to its chances of winning a job seen by senior managers as the "best opportunity" available to the firm at the time.
Millet asked Maynard whether he had been aware of the difficulties in attracting interest from cladding firms that Bachellier's email referred to.
He told the inquiry: "As a company, we'd only used Harleys, therefore our cladding database or knowledge of subcontractors was probably limited and that probably restricted us in that part of the tender."
Maynard said he understood that other cladding firms were approached to give prices for Rydon's bid and agreed with Millett's suggestion that they must not have been interested in the job.
"We could get that on a lot of projects," Maynard said. "A lot of people aren't necessarily keen on pricing jobs when they're just not a live job or a firm project. So I think that quite often the estimators come up against that battle."
The inquiry into the fire, which claimed 72 lives, previously heard that Rydon made an estimating error with its winning £9.2m bid that gave a price £212,000 lower than it should have been.
Adding to the financial pressure, KCTMO's budget for the Grenfell refurbishment quickly turned out to be £800,000 less than Rydon's winning bid.
Rydon sought to offset some of the shortfall caused by its tender error by holding back some of the savings delivered when the zinc cladding system originally sought by KCTMO was value engineered down to aluminium composite material (ACM).
The zinc cladding option was priced at £3.22m as part of the bid but through the value-engineering process Rydon sought a reduction of £419,267 from Harley if the zinc cassettes were switched for ACM cassettes, and a saving of £577,000 if the switch was for face-fixed ACM panels.
The inquiry was previously told it only planned to pass on a fraction of the savings to the client – at one stage there was a £200,000 difference between Rydon's expected savings on the cladding and the savings it proposed to pass on
However it subsequently emerged that Harley had made a "six-figure error" with its figures for ACM alternatives. After further negotiation, Rydon's eventual anticipated savings from the switch to ACM cassette cladding for Grenfell were £77,000.
Millett asked Maynard if he had been driving as hard as he could to make sure Harley bore as much of the cost as possible and for Rydon to make as much of a saving as possible. Maynard replied: "I was doing my job as best as I could, yeah."
He added that he believed Rydon had been fair in reaching a price compromise with Harley on the grounds that the cladding specialist had made a tender error which "in theory" was "their problem".
Monday's session also looked at Rydon's exploration of the use of a cladding system featuring Rockwool Duo Slab, a non-combustible insulation material that would have attracted so-called "ECO funding" for the refurbishment project, paid for from Energy Company Obligations.
Millett presented Maynard with emails between Rydon and Harley that suggested the potential use of Duo Slab had been parked when Harley had pointed out it would only have attracted ECO funding if used with a complete system of Rockwool cladding and rails.
Asked why Rydon had not asked Harley to provide a quote for such a complete cladding system, Maynard said he was not sure.
Millett also asked Maynard whether he knew that insulation used on buildings taller than 18m needed to be of limited combustibility – which Duo Slab is but the eventually-specified Reynobond RS 5000 is not. Maynard said he was not aware of the requirement.
The inquiry continues.