Inquiry into 2017 disaster hears Celotex wanted to use refurbishment for just-launched RS5000 boards
Cladding specialist Harley Facades has denied accepting a "hefty" discount on a supposedly new Celotex insulation product in return for using Grenfell Tower as a "guinea pig" for the product.
Ben Bailey, Harley Facades' project manager for the ill-fated refurbishment – which led to 2017's inferno and the loss of 72 lives – acknowledged on Monday that the firm had been in discussions about using the project as a "case study" for the insulation firm.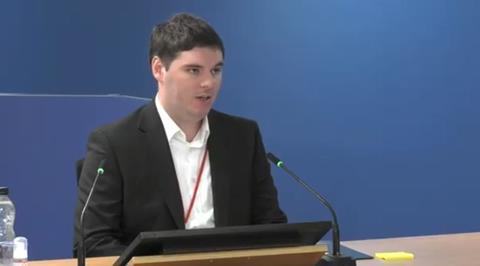 But Bailey – son of Harley director Ray Bailey – insisted there was no connection between those discussions and the 47.5% discount applied to its quote for Celotex RS5000 polyisocyanurate (PIR) panels ordered for use behind the aluminium composite material (ACM) cladding put on Grenfell.
The discount, from supplier SIG, was worth almost £41,500 based on the quote for 660 of the panels.
Ben Bailey told the inquiry that the discount had not been offered because of discussions between Harley and SIG or Harley and Celotex but was a result of having placed a large order.
"It's not unusual in my experience of ordering stuff, not just from SIG but from other suppliers, that large orders get a discount without even asking," he said.
Asked whether the fact that Harley could get such discounts had influenced its choice of RS5000, Bailey answered "no".
Inquiry barrister Richard Millett QC had earlier produced a March 2015 email from Celotex major projects and specification manager Jonathan Roome which had the subject line "RE: Grenfell Tower – Celotex".
In it, Roome asked for the details of the SIG branch Harley was ordering through, in order "to make sure that the pricing and supply chain is looked after for you".
Monday's hearing of the inquiry heard that Harley had been in discussions with Celotex about the possibility of using the Grenfell Tower refurbishment as a "case study" for RS500, newly launched by Celotex in the summer of 2015 and flagged as a product suitable for use on buildings above 18m in height.
Bailey confirmed the discussions and said he guessed that "being an insulation supplier", Celotex "might be interested in what U-value [a measure of heat transfer through a structure] was achieved" at Grenfell.
Millett asked Bailey whether he got the impression that Grenfell Tower was being used as "a guinea pig, as it were, for RS5000".
Bailey replied: "That's not a thought that crossed my mind." But he later conceded that he was aware the product "hadn't been used widely before".
It subsequently emerged that Celotex was combustible and not suitable for use in the configuration applied to Grenfell Tower. Inquiry expert witness Dr Barbara Lane reported in 2018 that RS5000 was essentially the same PIR foam as FR5000.
The Grenfell Tower Inquiry's phase one report found that the Reynobond PE 55 ACM cladding used for the building's refurbishment was the principal cause of fire spreading so rapidly in the early hours of 14 June 2017.
But it noted that the combustible insulation materials used behind the ACM cladding and to fill gaps in the window areas "contributed to the rate and extent of vertical flame spread" on the night.
The National Building Specification for Grenfell Tower's refurbishment did not include Celotex RS5000, but instead named the FR5000 product.
'Typo' claim
Bailey was asked whether he had ever had conversations with Studio E Architects' project lead for Grenfell Neil Crawford about the switch from FR5000 to RS5000 and whether the latter was compliant with Building Regulations.
Bailey said Crawford had been "quite laid back" when he pointed out the change and said Crawford had responded with an observation along the lines of "yes that's a typo".
Millett asked Bailey how it was possible the NBS [National Building Specification], which dated back to January 2014, could have contained a typo in relation to RS5000, eight months before the product was launched.
Bailey conceded that he may have been "misremembering" the conversation but maintained that the gist of what had been said was that he "should be seeing RS5000" on the NBS.
Monday's inquiry sessions heard that the Grenfell refurbishment was essentially Bailey's first role as a project manager on one of his father's firm's schemes.
Bailey, who was 25 when he took on the Grenfell role, spent much of the day being asked about who had specified particular products used during the refurbishment, including the Celotex and Kingspan Kooltherm K15 insulation.
He was unable to explain why Harley had used an out-of-date British Board of Agrément certificate to assure itself that K15 was suitable to use as an alternative to Celotex on the project when it had been facing delays in getting some consignments of the firm's RS5000 product on site. K15 was also unsuitable for use on Grenfell Tower.
He also could not explain how Kingspan Thermapitch TP10 insulation boards specified for use with window infill panels had been swapped for a styrofoam product.
Bailey also told Monday's hearing that he had been unaware that the terms of Harley's engagement on the project required Grenfell refurbishment main contractor Rydon to be informed of any substitution of the materials that formed part of the NBS specification.
The inquiry continues.