Inquiry hears refurb was Ben Bailey's first project manager role and he did not think understanding Building Regulations was part of his job
The Grenfell Tower Inquiry has heard that the son of cladding specialist Harley Facades was just 25 when he took on the role of project manager for the company's work on the west London block, which caught fire in 2017 with the loss of 72 lives.
Ben Bailey – now 30 – told today's hearing that he had been a site manager for a previous Harley job, Merit House in Colindale, north-west London, but that Grenfell had essentially been his first project manager role with Harley.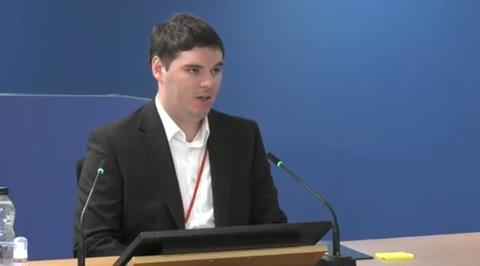 Inquiry barrister Richard Millett QC asked Bailey, about evidence from his father Ray Bailey who said his son had also done project management work at Merit House, which was the refurbishment of an office building in which Harley's role was mainly curtain walling.
The younger Bailey said his role at Merit House had "morphed" into a project manager role on the scheme but he said he could not remember whether he had ever been formally promoted.
Ben Bailey's written statement to the inquiry says he has a foundation degree in engineering from Oxford Brookes University and a degree in business and management from the same institution. He graduated in 2013. Bailey also includes an NVQ level 6 in construction management among his qualifications.
He told the inquiry on Monday that in addition to working as a Harley site manager for the Merit House project he had done other roles at Harley before going to university and during holidays, including being a project co-ordinator and office manager.
Millett asked Bailey about his responsibilities as Harley's project manager for the Grenfell refurbishment, for which Rydon was main contractor and Studio E was project architect.
Bailey said he saw his project-manager role as covering programme management, liaising with the client and "valuation type" activities.
Millett asked whether he had ever been provided with a written job specification for the project manager role at Grenfell. Bailey replied: "No".
Asked whether anyone had ever explained to him in detail exactly what he was supposed to do in the role, he replied: "They must have done because the role in my head was planning, logistics, dealing with suppliers. Things of that nature."
Millett asked Bailey who had told him he would be working as project manager for the Grenfell refurbishment. He said he thought it had been Harley contracts manager Rob Maxwell who told him "this is your next job".
Bailey said he did not remember being involved with any work relating to whether the products fitted to Grenfell Tower as part of its new exterior envelope complied with the Building Regulations. He gave the same answer in relation to industry standards, such as those of the Centre for Window and Cladding Technology.
Millett asked whether Bailey was responsible for ensuring that those who were answerable to him made sure that the designs and products complied with the Building regulations or industry standards. He answered "no".
The barrister asked: "Do I take it from what you're telling us that you personally didn't think you needed to understand the regulatory framework: Building Regulations, Approved Document B and relevant industry guidance in order to carry out your role properly as project manager?"
Bailey replied: "No" and clarified that he was agreeing with Millett's inference.
Bailey was asked who at Harley was responsible for checking that the products fitted to Grenfell Tower as part of its refurbishment complied with statutory requirements.
He said it was his former colleague Daniel Anketell-Jones.
"By the time [a project] gets to a subcontractor such as us, there is an expectation that compliance has already been considered," Bailey said. "Dan's role is to further check that."
Anketell-Jones last week told the inquiry that no-one at Harley had been qualified to conduct such checks across the whole company during the Grenfell refurbishment period, and that assurance had been down to individual teams. For Grenfell he named Bailey and freelance project designer Kevin Lamb as responsible.
Millett asked Bailey whether he had been aware that appendices to the letter of intent covering Harley's appointment to the Grenfell project meant that the firm was fully responsible for the design, including relevant compliances and dimensional integration.
He responded: "It's not something I was familiar with."
Millett asked: "Do you accept that it was your job as project manager to manage the job so as to ensure that the design of the façade was compliant with the relevant compliances and dimensional integration?"
"I don't think it was," Bailey responded.
Asked whether he thought it was anybody's job in Harley to do that, he said: "My opinion was that it was always the architect that performed that role."
Bailey earlier told Monday's hearing that he had originally been planning to do a degree in motor-sport engineering but had decided to study business and management instead.
The inquiry continues.