Safe mineral wool product ruled out because 'aspirational' efficiency target would not have been hit, inquiry hears
A mechanical and electrical systems consultant on the Grenfell Tower refurbishment project recommended the use of combustible insulation on the outside of the block as a way to meet an "aspirational" thermal efficiency target, the probe into 2017's disaster has heard.
Thursday's session of the Grenfell Tower Inquiry took evidence from Andrew McQuatt of building services engineering consultancy Max Fordham, who said he had proposed Celotex FR5000 insulation for the scheme in an August 2012 email to architect Studio E.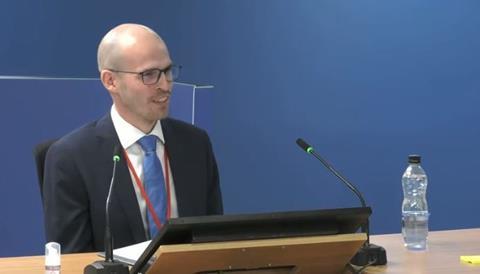 McQuatt said the recommendation followed a search for insulation thin enough to meet an "aspirational" thermal efficiency target for the refurbishment that fitted between the 1970s tower's original exterior and the rainscreen cladding to be added as part of the scheme.
But McQuatt, who was project engineer for Max Fordham's work at Grenfell between May 2012 and May 2013, said the only things in his mind when he made the recommendation had been the lambda value of the product – which measures its thermal efficiency – and its thickness.
FR5000 is a polyisocyanurate (or PIR) rigid foam insulation. Although it made it onto the National Building Specification for the Grenfell Tower refurbishment, it was not suitable for use on buildings above 18m in height.
Differently named Celotex RS5000 insulation boards were eventually fitted to the building. After 2017's fire, in which 72 lives were lost, inquiry expert witness Dr Barbara Lane said that FR5000 and RS5000 were essentially the same foam product.
The Grenfell Tower Inquiry's phase one report said that the combustible insulation installed as part of the refurbishment had contributed to the speed with which fire spread up the tower on the night of the disaster.
Surprised in a good way
Max Fordham's McQuatt said that at an early stage in the project the consultancy suggested the Grenfell refurbishment should aim for thermal-efficiency levels comparable with a new-build block.
He said he had been "surprised in a good way" that Studio E and the project team decided to go with the "aspirational" target of a thermal-efficiency U-value of 0.15. While one of the remits for the Grenfell refurbishment was to improve thermal efficiency, there was no requirement to meet the U-value proposed.
But the thickness of insulation required for such a level of thermal efficiency seemingly excluded the use of mineral wool for insulation, even though the material was routinely used behind rainscreen cladding on tall buildings and is considered safe.
Calculations by Studio E project lead Bruce Sounes indicated that Rockwool DuoSlab mineral wool would need to be 450mm thick to achieve the thermal efficiency sought for Grenfell Tower. Studio E's designs for the building allowed up to 200mm for insulation.
The inquiry heard that a Rockwool technical consultant told Sounes that the thickness of DuoSlab required to meet a U-value of 0.15 "would be exceptionally high, probably beyond the point of sensible building".
Max Fordham's McQuatt agreed that the use of Rockwool was effectively discounted because of its thickness. He said he expected Kingspan "or something like it" to be used because its thickness was "much closer" to what was required.
Website search
McQuatt said he believed solid insulation boards made by Kingspan and Celotex were "very similar" and had sought a product with an appropriate thermal efficiency value for the Grenfell project from Celotex because he had a log-in to use the selection feature on the firm's website.
He subsequently emailed Studio E's Sounes saying: "The Celotex FR5000 is a solid PIR board, data sheet attached, I think this is the only type of product that will give us the required performance". McQuatt added that he believed Kingspan also did a version of the product.
McQuatt said he had never considered the fire performance of the product and had only been looking at its U-value. However, Sounes told the inquiry in March he had "made an assumption" that Max Fordham had previous experience with FR5000 and considered it acceptable.
McQuatt told Thursday's hearing he had not been aware that his suggestion had been taken as a tacit endorsement for the product.
Inquiry barrister Kate Grange QC asked McQuatt whether it had occurred to him that FR5000 was a combustible insulation and there might be fire-performance questions that needed to be asked. He replied: "No".
McQuatt had earlier told the inquiry he had no experience of working on high-rise buildings before the Grenfell Tower project. He said that he had seen PIR insulation "again and again and again" on the buildings he worked on and saw it as "just a common material".
Also on Thursday, Jonathan White of property and construction consultancy John Rowan & Partners gave evidence to the inquiry. White was one of two clerks of works from JRP appointed by refurbishment project client Kensington and Chelsea Tenant Management Organisation to supervise and monitor work.
White told the inquiry that although KCTMO had sought clerks of works, the brief he had been given was more in line with the role of a site inspector.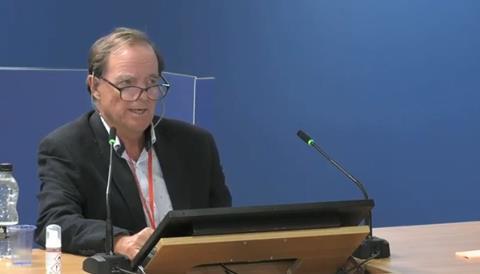 Asked by inquiry barrister Rose Grogan to explain the difference, White said a clerk of works would be involved with a job from end to end while an inspector would just report to the client on particular issues defined by them.
White said he and his fellow JRP clerk of works had spent around 80 days on site throughout the project and that sometimes he would only visit once a week. He told the inquiry his first visit to Grenfell had taken place in February 2015 "some seven [or] eight months after the job had started".
White said it was not his role to check that work at Grenfell met Building Regulations, but to check that Building Control officers had done so – and that if any issues had arisen that they were followed up.
Grogan asked White whether he had been checking what was installed on site against the designs to see that it matched. White replied: "Not specifically."
He told the inquiry that he made around 35 inspection visits to the site, which resulted in reports. White said he went up mast climbers on site around 10 or 12 times.
Asked specifically what he was looking for, White replied: "Generally that the work was neat and tidy, it wasn't damaged, that everything seemed to be the same […] fitted with the same detail, there were no holes in the insulation, the fixings were not loose. I was just checking that there was nothing that stood out."
White was asked about issues on the project such as cavity barriers that were missing from window surrounds and cavity barriers installed back-to-front and in the wrong orientation.
He said he had not been aware of problems related to cavity barriers but believed that he would have photographed any issues he spotted and reported them to main contractor Rydon.
KCTMO project manager Claire Williams' witness statement to the inquiry said JRP's appointment as clerk of works had called for work to be inspected for its quality and delivery "as designed" and that Rydon was to be challenged "when necessary".
White said he and his JRP colleague initially had a "difficult" relationship with Rydon because they had not been involved from the start of the project.
"We weren't part of the main team, they weren't keen for us to be there and they didn't really make us very welcome," he said.
But White said the relationship improved when Dave Hughes – Rydon's final site manager – was drafted on to the project in October 2015.
The inquiry continues.