CEP sales lead quizzed about knowledge of fire-retardant version of combustible cassettes used in fatal refurbishment
A key sales contact at the firm that produced the combustible ACM cassettes installed on Grenfell Tower as part of its disastrous refurbishment has accepted that he knew a safer, fire-retardant version of the product was available, the inquiry into 2017's fire has heard.
Geof Blades, who was a senior sales manager at St Helens-based CEP Architectural Facades at the time of the refurbishment, insisted he had not recommended the use of Reynobond aluminium composite material (ACM) panels for the west London tower block's ill-fated facelift.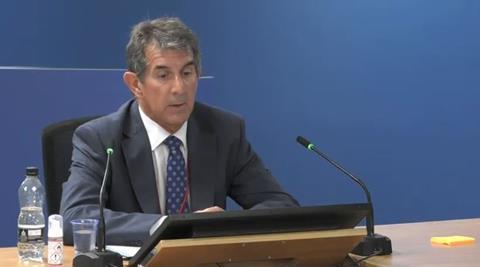 But Blades acknowledged that he had proposed the use of Reynobond, produced by French firm Alcoa, now known as Arconic.
He argued that he had shown Reynobond to project architect Studio E as an alternative to zinc cladding, which the practice preferred but which "wasn't meeting their cost parameters". Blades said he had not been exclusively endorsing its use.
CEP fabricated cassettes featuring Reynobond PE 55 for installation on Grenfell Tower by refurbishment cladding specialist Harley Facades. The panels had a combustible polyethylene core and were not suitable for use on buildings above 18m in height.
The Grenfell Tower Inquiry has already determined that the combustible ACM cladding and combustible insulation used in the refurbishment were the main causes of the spread of fire that engulfed Grenfell Tower on 14 June 2017.
Blades told the inquiry in a witness statement that he had not known a safer, fire-retardant – FR – version of the Reynobond 55 used for Grenfell was available at the time of the refurbishment.
On Wednesday, Blades told the inquiry that CEP only had two suppliers of ACM: Alcoa and 3A Composites, which manufactures Alucobond.
Inquiry barrister Richard Millett QC showed him a June 2013 email trail discussing cladding quotes with 3A Composites sales manager Richard Geater.
Millett said the trail showed Blades telling Geater that a quote for the rival firm's Reynobond panels was cheaper than a quote for Alucobond, but that the Reynobond quote was not for the fire-rated or fire-retardant version of the product.
Geater suggested that the FR version of Reynobond cost "considerably more" than his firm's FR-cored Alucobond panels and that Alcoa "won't change their core until they are forced to due to changes in the fire regulations, else Reynobond will become too expensive".
Presented with the exchange, Blades said he was prepared to change his witness statement but did not remember receiving the mail from Geater.
Wednesday's session also heard that CEP and Arconic had been in discussions about cladding options for Grenfell Tower as far back as 2012 – pre-dating the involvement of main contractor Rydon and cladding specialist Harley Facades.
Blades said that he and Deborah French of Arconic had met with Bruce Sounes of Studio E to discuss the project. He said that while he had been keen for a Reynobond product to be installed, he had not taken a view on which one.
The inquiry heard that CEP had subsequently provided project client Kensington & Chelsea Tenant Management Organisation's original contractor Leadbitter with a quote for a full cladding system at the block in 2013. But in the end CEP only fabricated bespoke ACM cassettes using Reynobond PE 55 for Harley, although it also supplied new external window frames as part of the eventual 2015-16 refurbishment.
CEP's original quote to Leadbitter did not specify which version of Reynobond 55 would be used, however only the FR version would have been suitable.
UAE alarm call
Blades was asked about an email sent to him by Alcoa's UK sales manager Deborah French following BBC reports of an ACM-related fire on a high-rise building in the United Arab Emirates in May 2013.
In it, French sought to reassure the firm's customers that Alcoa was able to "control and understand" whether its PE or FR products were being used in individual projects to make sure the right Reynobond specification was offered.
Millett asked Blades whether the email had been a "major alarm call for CEP", as a fabricator of ACM panels.
Blade admitted that it could have been but said it had not been the case for him personally.
"We would have relied on designers, possibly, to ensure that that product or the products that were being chosen were compliant," he said.
Blades subsequently said he had never had a discussion with French about what kind of cores were in the ACM panels supplied by Alcoa.
But he agreed that after her email about the UAE fire he should, "in hindsight", have gone to Studio E and said that the firms must make sure they got the right cladding core for Grenfell.
Meal emails
Elsewhere on Wednesday, Blades was asked about email trails in which he promised Harley Facades commercial manager Mark Harris "a very nice meal very soon, somewhere very nice" when CEP was asked to quote for cladding to be used on Grenfell and another in which French promised Harris and Blades "lunch or dinner" at another project milestone.
Blades said he had been thanking Harris for "giving us the opportunity to quote them". He didn't agree that Harley had done CEP a favour but said the specialist had "certainly given us the opportunity of the business".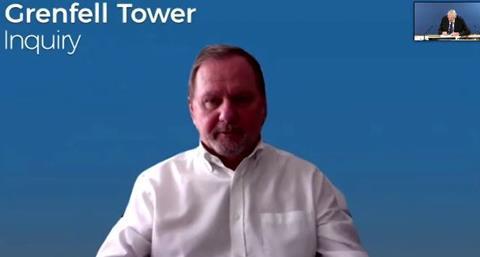 In response to French's email, Blades said: "The three companies acted very professionally and I never got taken out to lunch by anybody."
Data-check regrets
At the end of his evidence, Blades was asked whether he would have done anything differently on the Grenfell project if he knew at the time what he knew now.
"Yes, I think the company would and I would as well," he said.
"I think we'd have looked more deeply into the documents that were made available – the BBA certificate in particular, and probably enquired more as to what other products associated with the rainscreen system did and how it affected the panel."
Earlier in the session, Millett had asked Blades whether he knew the British Board of Agrément (BBA) certificate for Reynobond 55 only gave it a Class O rating for flame-spread and heat release for versions with an FR core. Blades said he had not known that information.
The inquiry continues.