Facades specialist's staff questioned on project management failings and reliance on advice from suppliers
The inquiry into the flawed refurbishment of Grenfell Tower continued this week with cladding specialist Harley Facades subjected to scrutiny over its project management and inspection of subcontractors' completed work.
Ben Bailey, son of Harley boss Ray Bailey, told the inquiry that when he was made project manager for the firm's work on Grenfell Tower in 2015 – aged just 25 – it was essentially his first such role.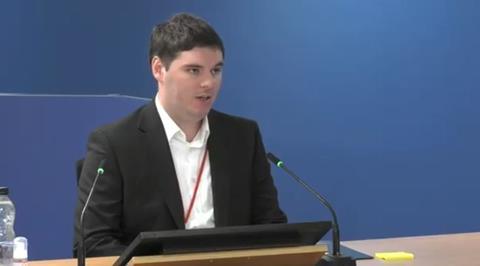 Bailey said on Monday he had previously worked as project co-ordinator and office manager at Harley when he was at Oxford Brookes University, where he graduated with a degree in business and management, as well as during holidays. He was site manager for a project in north-west London immediately before starting work on Grenfell.
Inquiry barrister Richard Millett QC asked Bailey about the scope of his role on the Grenfell refurbishment. Bailey said he saw it covering programme management, liaising with the client and "valuation type" activities. Bailey said he had never been provided with a written job specification.
Asked whether anyone had ever explained to him in detail exactly what he was supposed to do in the role, he replied: "They must have done because the role in my head was planning, logistics, dealing with suppliers. Things of that nature."
The inquiry heard that insulation manufacturer Celotex had been keen to use Grenfell Tower as a case study for its newly launched RS5000 insulation, which were polyisocyanurate (PIR) panels.
Asked whether Grenfell was being used as a "guinea pig" for the product, Bailey said the thought had never crossed his mind.
Bailey also insisted that a 47.5% discount, worth more than £41,000, offered to Harley in a quote for panels of Celotex RS5000 had merely been because of the size of the order and had not been an inducement to make sure the product was used on the tower.
It subsequently emerged that RS5000 was not suitable for use on buildings above 18m in height. The Grenfell Tower Inquiry's phase one report said the combustible product, installed behind the scheme's combustible Reynobond PE 55 aluminium composite material (ACM) cladding, and other inappropriate products had contributed to the speed at which fire spread up the tower on the night of June 14, 2017. Seventy-two lives were lost in the blaze.
On Tuesday, Bailey accepted he had failed to properly understand a warning from a technical officer at cavity-barrier supplier Siderise who identified a "weak link for fire" in the refurbishment proposals. The fault, which flagged the lack of measures at the windows to stop fire spreading from inside the building to its exterior, was not addressed.
Bailey was also questioned about his knowledge of Building Regulations and industry guidance. He said he had read parts of Approved Document B of the Building Regulations but found the document – which relates to fire safety – "confusing".
Millett raised two instances in which Bailey asked Siderise for technical advice on the regulatory compliance of firebreaks for Grenfell Tower.
"Are you able to explain how Harley, as a specialist cladding subcontractor, and you – as the project manager overseeing the installation – so lacked expertise in the placement of cavity barriers that you had to seek advice from the manufacturer?" Millett asked.
Bailey said he was "not in a technical role" and had just been "double checking". When Millett repeated the question, Bailey replied: "No."
Bailey was also quizzed about the quality of his on-site inspection work at Grenfell Tower and shown images of cavity barriers – used to stop the spread of fire in concealed areas of buildings – that had been installed vertically instead of horizontally and also back-to-front.
He accepted the images showed "sloppy" workmanship. But also admitted that subcontractor Berry Osborne had been left to get on with its work unsupervised on some days.
Bailey told the inquiry he had conducted informal inspections of the work at Grenfell. Millett asked whether he had ever noticed any poor workmanship. "Nothing specific," Bailey replied.
Geof Blades, a senior salesperson at CEP Architectural Fabrications, gave evidence to the inquiry on Wednesday.
CEP fabricated the bespoke ACM cassette panels fitted to the outside of Grenfell Tower from Reynobond PE 55 that it bought from manufacturer Alcoa, subsequently renamed Arconic.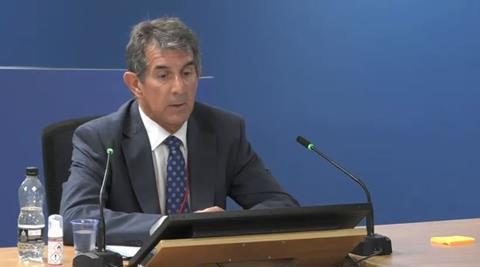 Blades told the inquiry he had been in discussions about cladding options for Grenfell Tower's refurbishment with project architect Studio E as far back as 2012.
Blades denied recommending the use of Reynobond PE 55 for the refurbishment, but accepted that he had introduced the idea of using it as an alternative to the zinc cladding the practice had originally planned.
In a witness statement to the inquiry, Blades said he had not been aware that a fire retardant – or FR – version of Reynobond 55 was available until after his involvement with the refurbishment had concluded.
The combustible version of Reynobond used in the cassettes fitted to the tower had a polyethylene core, hence the "PE" description. The inquiry's phase one report said the combustible cladding was the principal cause of the rapid spread of fire on the night of the disaster.
Inquiry barrister Millett showed Blades a June 2013 email trail discussing cladding quotes with Richard Gaeter of 3A Composites which produces Alucobond ACM.
Millett said the trail showed Blades telling Geater that a quote for the rival firm's Reynobond panels was cheaper than a quote for Alucobond but that the Reynobond price was not for the fire-rated or fire-retardant version of the product.
Geater suggested that the rival firm's FR version of Reynobond cost "considerably more" than his firm's FR-cored Alucobond panels and that Alcoa "won't change their core until they are forced to due to changes in the fire regulations, else Reynobond will become too expensive".
Blades subsequently said he was prepared to change his witness statement in relation to his knowledge of an FR version of Reynobond.
In other evidence, Blades told the inquiry that CEP had provided project client Kensington & Chelsea Tenant Management Organisation's original Grenfell contractor Leadbitter with a quote for a full cladding system at the block in 2013.
In the end CEP only fabricated bespoke ACM cassettes using Reynobond PE 55 for Harley, although it also supplied new external window frames as part of the eventual 2015-16 refurbishment.
On Thursday, a Max Fordham consultant told the inquiry he had suggested the use of a combustible insulation product from Celotex as part of Grenfell Tower's refurbishment because it was thin enough and had the right thermal properties to meet an "aspirational" efficiency target.
Andrew McQuatt, who worked on the Grenfell project from May 2012 to May 2013 said he had not considered the suitability of Celotex FR5000 for use on a tall building and had only been concerned with its U-value and thickness.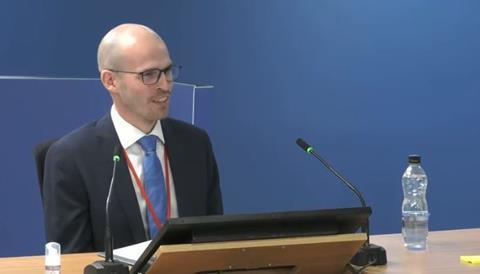 The drive to achieve a thermal-efficiency U-value of 0.15 for the project – equivalent to that of a new-build tower – prompted the project team to rule out mineral wool insulation because initial calculations suggested the thickness required would be too great.
Bruce Sounes, who was Grenfell Tower lead at project architect Studio E, told the inquiry in March that he had "made an assumption" that Max Fordham had previous experience with FR5000 and considered it acceptable.
McQuatt told Thursday's hearing he had not been aware that his suggestion had been taken as a tacit endorsement for the product.
Celotex FR5000 was put on the National Building Specification for the Grenfell refurbishment but a differently named product – RS5000 was put on the building. It was essentially the same product, according to inquiry expert witness Barbara Lane.
The inquiry's last witness of the week was Jonathan White of property and construction consultancy John Rowan & Partners. He was one of two employees of the firm appointed as clerks of works by KCTMO.
White told the inquiry that despite KCTMO's job description, the brief he had been given was more in line with the role of a site inspector.
He said it was not his role to check that work at Grenfell met Building Regulations but to check that Building Control officers had done so – and that if any issues had arisen that they were followed up.
White said he made around 35 inspection visits to the site and that he went up mast climbers on site for inspections around 10 or 12 times.
Asked specifically what he was looking for, White replied: "Generally that the work was neat and tidy, it wasn't damaged, that everything seemed to be the same […] fitted with the same detail, there were no holes in the insulation, the fixings were not loose. I was just checking that there was nothing that stood out."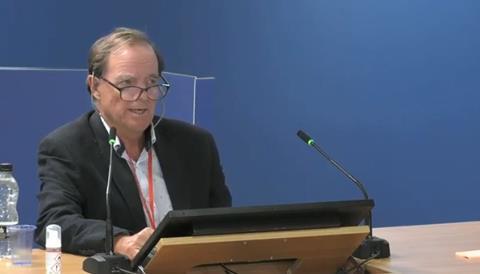 White was asked about issues on the project such as cavity barriers that were either missing or wrongly installed.
He said he had not been aware of problems related to cavity barriers but believed that he would have photographed any issues he spotted and reported them to main contractor Rydon.
The inquiry continues.