Council manager says surveyor only had 30 live projects and rejects allegations of 'culture of bullying'
The manager responsible for overseeing the work of building control surveyors at the Royal Borough of Kensington and Chelsea has said he had "full confidence" in the inspector who approved the refurbishment of Grenfell Tower as worthy of a compliance certificate.
John Allen told Monday's hearing of the Grenfell Tower Inquiry that he did not believe his staff had been "overstretched" following a 2013 restructuring of the council's building-control operations and said designated Grenfell surveyor John Hoban had not specifically asked for more time to deal with the project.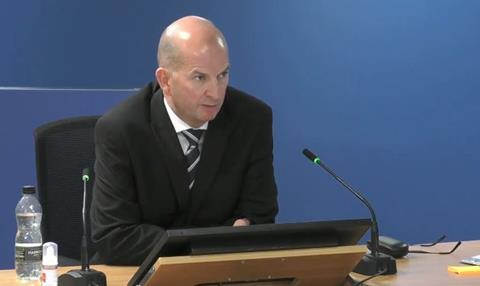 Allen, who was building control manager at RBKC from autumn 2013 until he took voluntary redundancy from the authority in 2018, also questioned Hoban's suggestion last week that he had 130 projects to take care of at the time work was at a crucial stage on Grenfell. Additionally, he rejected the suggestion that there was a culture of bullying in his department.
Inquiry barrister Rose Grogan asked Allen about his assessment of staff capabilities at the department and whether he had concerns when senior surveyor Hoban – who lacked experience with high-rise residential overcladding projects – was assigned to oversee work at Grenfell.
"He's the senior building control surveyor, I have every faith and confidence in his ability. It's a core function to first look in the Building Regulations and work out what is the requirement that applies in a particular circumstance and then looking up the data and making sure that element of it is as [per] the Building Regulations," Allen said.
Citing one particular non-compliant aspect of the Grenfell refurbishment, Grogan asked Allen if he could explain how it was that the combustible insulation Celotex RS5000 ended up on the tower.
Allen replied: "I wouldn't know how the Celotex has come to be on the building."
He added that it was not usual in his experience for second checks to be carried out on the work of building control inspectors.
Allen said he believed Hoban would have considered Grenfell Tower to be compliant with Building Regulations when he approved the production of a completion certificate. But he cautioned that builders and design teams were ultimately responsible for making sure structures complied with Building Regulations.
Workload pressures
Allen was asked about a 2013 restructuring of RBKC's building control department that led to a reduction in staff headcount, driven by what Hoban described as "austerity cuts".
Allen accepted that the number of building surveyors at the authority had been "substantially reduced" after the restructuring – which aimed to make building control services cost-neutral in line with government policy and followed a £500,000 loss for the department the previous year.
He said that the situation was part of a bigger picture of changes to the compliance regime that allowed clients to use private building inspectors to check projects, which meant the amount of work directed towards RBKC building control reduced.
Allen said that after the reorganisation the surveying team reduced to three senior surveyors, one principal surveyor and one graduate building control surveyor covering the borough – but insisted the department was not "overstretched".
Hoban told the inquiry he had quit his job because workload pressures meant that he was no longer able to do his job in the way he thought it should be done and that the situation had been affecting his health.
Allen acknowledged that he had conversations with Hoban about his workload that had seen one project reallocated to another staff member but the manager said he could not remember other examples.
On Wednesday last week, Hoban said he had been responsible for 120-130 projects in 2016 when the Grenfell Tower refurbishment was nearing completion.
Allen said he had looked at a database of projects that surveyors had used and found that Hoban's project count "wasn't the highest". He accepted that Hoban may have had up to 130 projects assigned to him at one point but said the number did not give a full picture.
"Of those 130, there would be a number of those that hadn't even started so that wasn't like an inspection workload and there was a number that hadn't been inspected for 90 days," he said.
"One of the times that I looked [at the database] the highest number that I could see was 121 and there were only around 30 current jobs."
Culture of bullying
Hoban referred to a culture at RBKC in which there was no scope for discussion about how workloads could be managed.
Allen said he had been "as supportive as I could possibly be and I'm happy with that".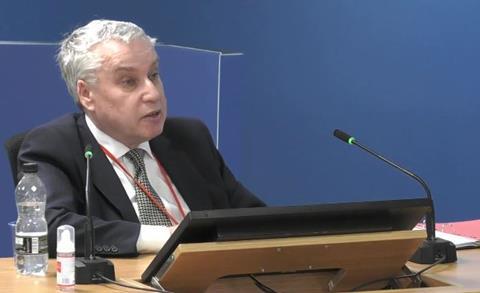 Grogan asked Allen if there had been a culture of bullying at RBKC's building control department – a suggestion he rejected.
Allen was shown an email sent to RBKC executive director of planning and borough development Graham Stallwood two days after the fire by former council building surveyor Robert Albrow.
Albrow said he wished to offer his "unconditional support to the building control officer concerned" following the fire and alleged that the council's building control department was "afflicted by a culture of bullying" and that "surveyors' concerns are not taken seriously when they are raised".
His email said: "I absolutely believe the management team would knowingly falsify and manipulate records to demonstrate there (sic) ends hanging the surveyor out to dry."
Albrow acknowledged in his email that he had been subjected to a disciplinary process following an accusation of gross misconduct during his time at the authority. He also outlined a case in which he believed his concerns in relation to another project had been ignored.
"I even recall being told that if a corporate manslaughter charge was to be brought it would be the head of building control who would be liable, not myself," he said.
Allen told the inquiry he was aware of the correspondence but disagreed with its "whole essence", adding: "The context I refute absolutely."
In addition to rejecting the suggestion that there had been a culture of bullying at the RBKC building control department at the time he was manager, Allen said there had not been such a culture at the department prior to his appointment as manager.
Missing files
Allen was not asked about an email he sent to colleague Jago Williams one day after the June 2017 fire, which claimed the lives of 72 people, stating that he could not find the electronic or paper records for the Grenfell Tower refurbishment.
He did, however, refer to difficulties tracking elements of the approval process – and conditions stipulated by officers because of the lack of archived documents.
Allen's 15 June 2017 email to Williams had questioned whether Hoban may have "weeded everything" so that "nothing remains".
On Thursday last week, Hoban was asked about the "weeding process" by which some paper documents relating to signed-off projects were discarded to reduce the amount of paper items that needed to be archived.
He said he could not remember whether he had been responsible for weeding the documents that related to Grenfell but said the process would typically see everything but "structural drawings, plans, sections and elevations showing the constructional details, certificates if they'd been printed out" thrown away.
Hoban, who left RBKC at the end of March 2017 – less than three months before the fire, said he was not responsible for weeding the entire Grenfell file. He added that the weeding practice was not something he supported.
"You should keep all information, in my view," Hoban said. "But the managers decided this is what they wanted done."
The inquiry continues.