Cladding fitters unable to explain 'unacceptable' errors while austerity staffing cuts hampered building control inspections
After lengthy spells of evidence from the two biggest contractors responsible for Grenfell Tower's flawed refurbishment, the inquiry into 2017's fire heard accounts from a range of viewpoints this week.
Subcontractors tasked with fitting insulation and Grenfell's aluminium composite material (ACM) cladding – and also for finishing off window reveals with combustible materials – to the west London tower explained their roles in the upgrade that ended with the loss of 72 lives.
After them, the local authority building control officer responsible for checking that work on the project complied with Building Regulations told the inquiry that cuts at the Royal Borough of Kensington and Chelsea stopped him from scrutinising work on Grenfell as closely as he would have liked.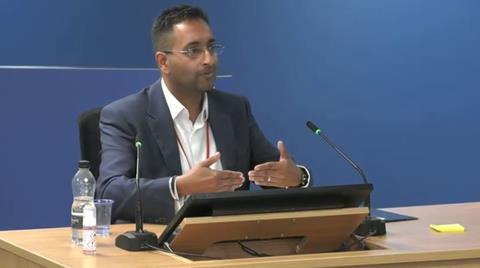 The week started with Gurpal Virdee, managing partner of property and construction consultancy John Rowan & Partners, which supplied two clerks of works to Grenfell refurbishment project client Kensington and Chelsea Tenant Management Organisation.
Virdee was quizzed about the value JRP's clerks of works added to the site after evidence from one of the clerks – Jon White – suggested that their principal role was to check that everyone else was conducting the right checks.
Virdee said it would have been "crystal clear" to KCTMO that it had been paying £479 a day for each clerk of works to provide site monitoring and supervision services for a total of 80 days, rather to provide a traditional clerk-of-works service.
He said JRP would have needed "too many experts" to confirm everything that formed part of the project complied with all aspects of Building Regulations.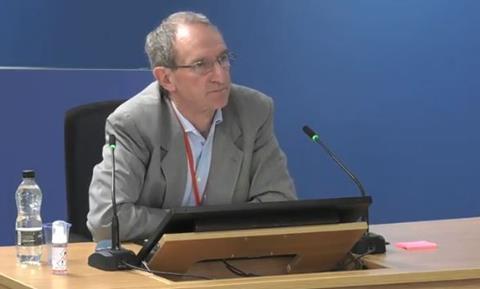 Cladding installers Osborne Berry were next to give evidence, and the inquiry heard business partners– Mark "Taff" Osborne and Grahame "Bez" Berry – had a long track record of working with Grenfell refurbishment cladding contractor Harley Facades.
On Monday afternoon Osborne was shown post-fire images of cavity barriers installed the wrong way around and examples of others so poorly fitted that they would be ineffective to stop the spread of fire and smoke.
He said the workmanship was "shocking" and "unacceptable" and that he would have ripped it out and had it reinstalled if he had seen it. He could not explain how neither he, nor anyone else, had seen the work.
Berry gave evidence on Tuesday and agreed with his business partner's assessment of the workmanship. He said Osborne Berry's team had been told which type of Siderise barrier to use vertically and which to use horizontally and had seen mock-ups of correct installations. He said they had also been shown how to install them correctly.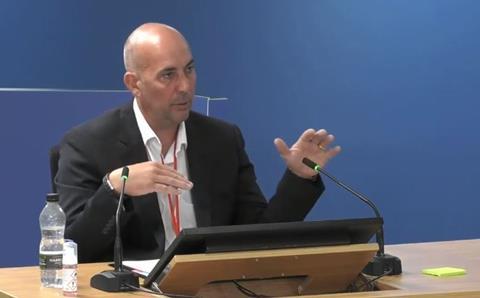 Earlier in the session inquiry barrister Kate Grange QC asked Berry whether he had read the marketing and installation guidance for the Siderise products. He said he had not.
Berry gave similar answers for installation instructions for the Reynobond aluminium composite material (ACM) cassettes used on the tower and the Celotex RS5000 and Kingspan K15 insulation installed on Grenfell tower.
Berry was asked whether he and Osborne had ever struggled to find properly qualified fitters and fitters mates to help them on the Grenfell Tower refurbishment. "Not that I'm aware of, no," he replied.
Mark Dixon of subcontractor SD Plastering also gave evidence on Tuesday. His firm was awarded a contract to finish off window reveals at Grenfell Tower. The work saw gaps between flats' old window frames and new windows padded out with combustible insulation and finished off with uPVC surrounds.
Dixon – who worked for Rydon for nine years in various managerial roles before becoming a director of SD Plastering in 2005 – said he believed the choice of materials for the surrounds had been driven by value engineering considerations.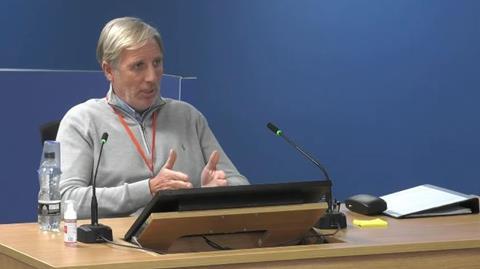 Dixon was asked whether he had taken any steps to examine the fire performance of the window surrounds and the extent to which they complied with Building Regulations.
"No, I didn't," he said. "I wasn't asked to."
He said he believed he suitability of the products would have already been agreed by the time SD Plastering became involved with the project
Former Royal Borough of Kensington and Chelsea building control officer John Hoban told Wednesday's hearing that he had resigned from his job at the council in March 2017 – just a few weeks before the Grenfell fire – because of work pressures.
Hoban, who counted the Grenfell Tower refurbishment among some 130 projects he was overseeing in 2016, said he did not feel able to do his job in the way he had been trained and the situation had been affecting his health. He had worked as a building control officer for more than three decades at that point.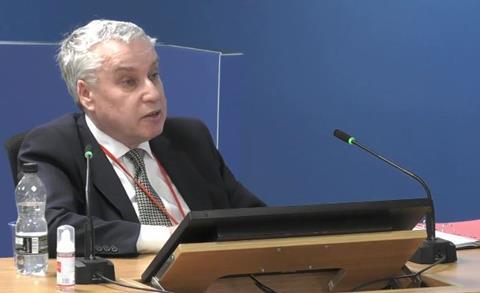 A recurring theme of Hoban's evidence was that his massive workload forced him to focus on other projects he believed were a higher priority.
Thursday's session of the Grenfell Tower Inquiry heard Hoban accept that desktop checks he carried out on some of the key products used on the refurbishment had not been as thorough as they should have been. He also accepted that assurances had been sought from the project team that steps to compliance with some aspects of the Building Regulations had been taken without those steps being checked.
In an emotional statement at the end of his evidence, Hoban said he was "heartbroken" for victims and their families but also criticised staffing cuts in his former department. He said he wished he had been given more time to scrutinise the project.
The inquiry continues.