Council surveyor tasked with inspecting work tells inquiry he resigned weeks before 2017 disaster
One of the local authority building control officers tasked with overseeing the refurbishment of Grenfell Tower quit his role weeks before 2017's fire because he "had enough" of not being able to do his job in the way he felt it should be done, the probe into the disaster has heard.
John Hoban told the Grenfell Tower Inquiry today that he had worked for the Royal Borough of Kensington and Chelsea for almost three decades after starting his career as a junior technical officer at the Greater London Council in the 1970s.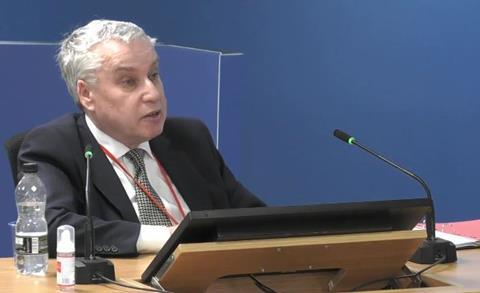 Hoban said he had around 35 years' experience as a building-control surveyor in central London at the time he was assigned to the Grenfell Tower refurbishment in late 2013.
Inquiry barrister Richard Millett QC ran through Hoban's CV on the first day of his evidence to the probe into the causes of the flawed refurbishment that cost 72 people their lives. He noted that Hoban had retired from RBKC on 31 March 2017 – just weeks before the 14 June fire at the block.
Hoban said he had resigned. Asked whether there was any particular reason, he said: "I resigned because I had enough. I wasn't able to do the job how I was trained to do and it was affecting my health. I just decided that I didn't want to work there anymore."
Millett replied: "We may come back to that later."
Hoban told the inquiry he had a BTEC ordinary certificate in building studies that he obtained in the early 1980s and a BTEC higher certificate in building studies that he gained in 1985, the year before he started working at RBKC.
Millett asked about ongoing training and professional development Hoban received during his time at RBKC. Hoban listed numerous seminars and training sessions – both internal and external.
He said that managers at the council would run training sessions on Building Regulations and approved documents, as and when they came out or were updated.
Hoban said he would have had training on Approved Document B when it came out "some years ago". Approved Document B of the Building Regulations relates to fire safety.
Millett asked whether any seminars or other training sessions Hoban attended covered the overcladding of residential high-rise buildings – in other words, projects like the Grenfell Tower refurbishment. He said they had not.
Hoban was also asked about training seminars he attended by product manufacturers. He said he "may have" attended a session run by insulation manufacturer Celotex around 15 years ago. He did not remember attending sessions by other firms whose products were used in the Grenfell refurbishment, such as Kingspan, Alcoa and Siderise.
The Celotex and Kingspan insulation and the Reynobond PE 55 aluminium composite cladding used on Grenfell were not suitable for the new external envelope as it was installed. Siderise products were not properly installed as part of the refurbishment.
The inquiry continues.