Runner-up appointed by Oxford college after winning scheme foundered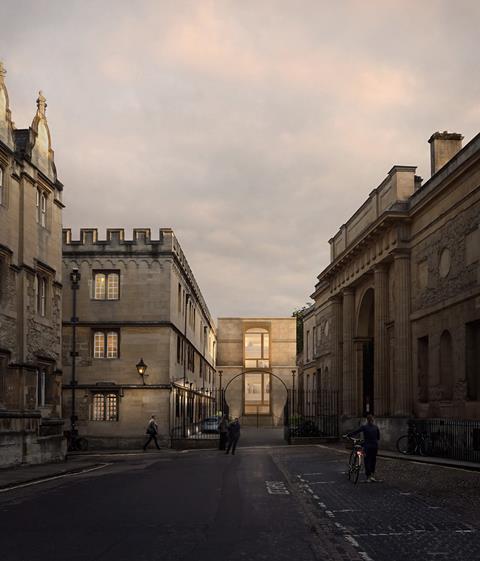 Wright & Wright has won planning for the expansion and remodelling of a building at one of Oxford University's oldest colleges – almost a decade after losing the design competition to Berman Guedes Stretton.
The practice was appointed by Corpus Christi College last year to increase capacity at its Special Collections Centre and Library, which has one of the finest collections of any Oxford college.
Wright & Wright was approached by the client after it abandoned BGS's winning scheme – which won planning and listed building consent in 2015 – when that more extensive project was judged too ambitious and expensive.
A new bursar and master joined the college and contacted the firm that had been placed second in the original competition. They were also impressed by Wright & Wright's work at St John's and Magdalen colleges, Building Design has been told. Both BGS and Wright & Wright have several completed projects for the university under their belts.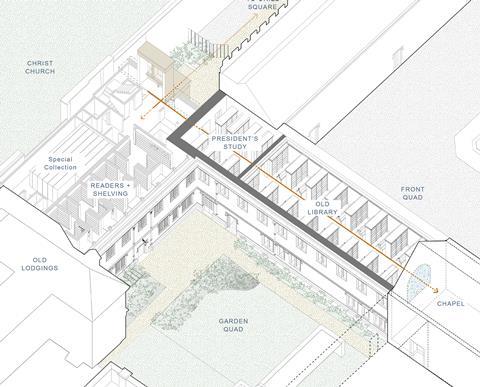 The brief for the new project is more "manageable" while meeting the college's key aims, said Wright & Wright. Work is due to start on site next year.
Corpus Christi is one of Oxford's oldest and smallest colleges. Its library, which was founded in the 16th century and houses a collection of 60,000 volumes including works by Galileo, Erasmus and the Venerable Bede, is of national architectural and historical significance.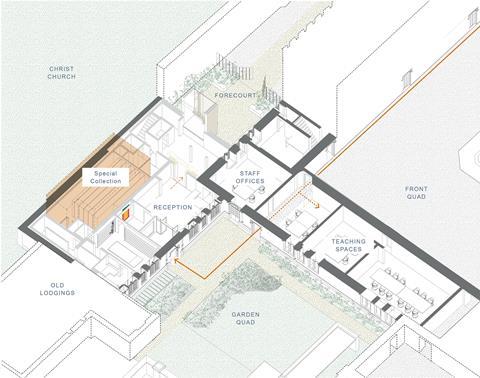 The college is arranged around a series of interlocking quads on a constrained site in the city centre. The project focuses on the ensemble of buildings around Garden Quad and in particular the grade II-listed Staircase 6 Building, which was designed by Architects Co-Partnership in the late 1950s but has been unsympathetically altered over the years. A new arrival point will be created at the current entrance to this building, providing first-floor access for users with mobility needs.
The remodelling, designed using Passivhaus principles, will create 35 new reader spaces and six additional spaces for researchers. An additional 1,200m of shelving will be added for the storage of manuscripts and early printed books.
An ashlar stone facade on Oriel Square will replace an existing garage and flat, while a new large glazed opening alludes to the historic notion of the "library window", giving the college a new civic presence.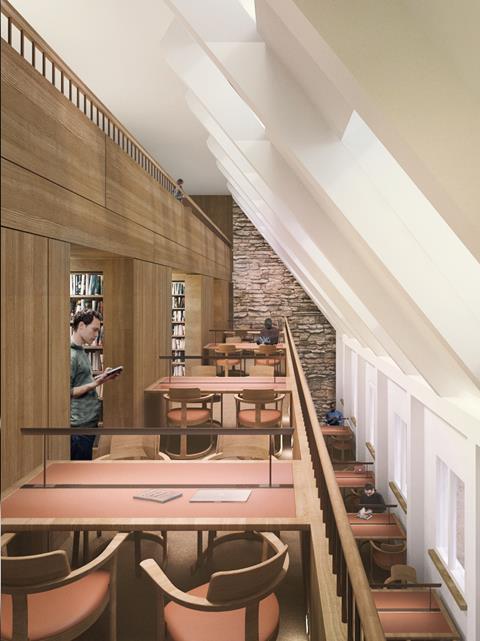 Split over three floors, the new reading room has been designed so all of the desks are in the brightest part of the plan, overlooking the Garden Quad, reducing the need for artificial lighting. Internally, materials such as oak and brass will be used.
Clare Wright, founding partner at Wright & Wright Architects, said the proposal would unpick, restore and enhance the existing building fabric, while adding distinctive contemporary elements.
"Our use of materials reflects an understanding of their inherent characteristics which informs the structure, function and meaning of our buildings," she said. "We look at what materials can do and we also embrace a culture of craft and making. How things are made influences the solution and the creation of signature details captures and enhances the spirit of the place."