Grenfell Inquiry told that there had been a "background of complacency" on fire safety in the government in years before 2017 blaze
Official guidance for fire risk assessors in the years leading up to the 2017 Grenfell Tower was so out-dated it was "beyond a joke", a fire expert has told the inquiry into the blaze.
Dennis Davis, an executive officer at the Fire Sector Federation (FSF), said that there had been a "reluctance" in government for "any form of additional mandatory controls on business".
Thursday's hearing was told how the government rejected calls for tougher competency standards on fire risk assessors in the wake of the 2009 Lakanal fire in south London, which killed six people after the building's non-compliant cladding panels ignited.
The inquiry has already heard how the assessment of Grenfell Tower was carried out by a former firefighter, Carl Stokes, who had completed a one-week training course on fire risk assessment.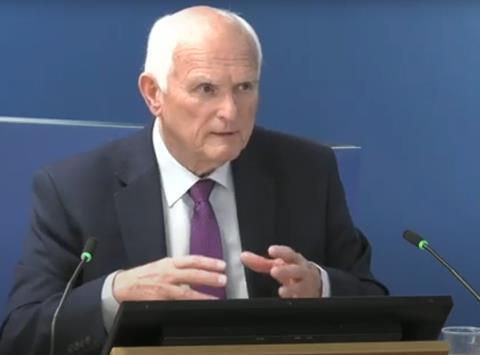 The government's chief fire and rescue advisor Ken Knight delivered a report soon after the Lakanal fire in which he recommended introducing an accreditation scheme for assessors.
He said yesterday that he considered Lakanal House to have been a "high risk premises" and the assessment of the building "clearly hadn't recognised what was the major failing".
But the hearing was shown emails from Louise Upton, head of fire safety policy at the Department for Communities and Local Government, in which she said that the government has "neither the expertise nor the resources available" to implement the proposed accreditation scheme.
The FSF, which is an industry group representing fire and building safety professionals, then proposed that the government should create a "quality assurance board" for fire risk assessors.
In response to the recommendation, Upton wrote to colleagues at the department: "Oh Lordy! Let's have a meeting sooner rather than later to see what we can do to steer the FSF away from its worst excesses in respect to control freakery."
The inquiry then heard that in 2014 the Fire Risk Management Competency Council, another industry group, proposed introducing a third-party certification scheme for assessors.
But Davis told the hearing that support for the scheme had waned because a "background of complacency" in government.
He said this was "drawn out of the fact that fire deaths were pretty stable", so the perception politically was that "fire [safety] was under control".
He added that government had been "reducing, smaller government….and expertise was maybe reducing. So the enthusiasm, the raison d'être, starts to evaporate a little bit."
Davis said the FSF was planning on launching a major campaign on updating building regulations in February 2017, four months before the Grenfell fire.
"We were deeply concerned that it was getting beyond a joke," he said. "It was really falling so far behind."
The inquiry continues.