Brandon Lewis is the first government minister to provide evidence to the Grenfell Inquiry
Former housing minister Brandon Lewis has denied that the government had an "aversion" to increasing regulation to toughen fire safety rules in the years before the Grenfell Tower disaster.
The first government minister to give evidence, Lewis told Wednesday's hearing that the housing department had a "fairly strong record" of being "very, very serious" about fire safety.
The inquiry has repeatedly heard that officials had felt constrained by a culture of deregulation within government that was intended to stimulate the economy in the wake of the 2008/09 financial crisis. One hearing last month was told how a body of fire safety experts set up to spot flaws in building regulations had been "hobbled" by the deregulatory drive and budgetary cuts.
Officials have also said that a review of the regulations following the 2009 fire at Lakanal House in south London was stalled partly because of a reduction in resources and a requirement imposed by ministers to remove more regulations than were added.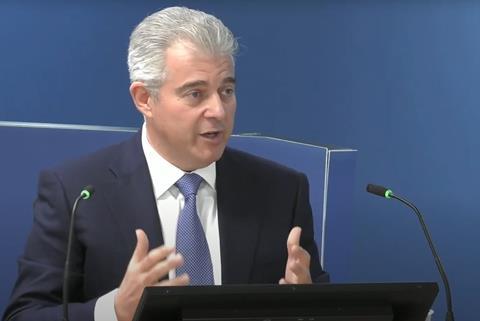 Yesterday, Lewis was questioned about the department's decision not to impose tougher standards on fire risk assessors despite multiple warnings from industry that the system had not been working.
Legislation introduced in 2005 required building owners to carry out risk assessments on their properties but did not impose minimum standards on the assessors. It meant that, effectively, anyone could carry out the assessments because an accreditation scheme did not exist to ensure the competence of those doing the work.
The inquiry has heard that the assessor hired to check the flawed refurbishment works on Grenfell Tower was not qualified to judge whether the materials used on the building complied with regulations.
Carl Stokes had no experience of inspecting high-rises, had only attended a short training course and admitted last year that he added letters after his name suggesting professional registration that did not exist.
Lewis, who was a junior minister with responsibilities for fire safety between 2012 and 2014 and was fire minister between 2016 and 2017, was handed proposals written by Louise Upton, a civil servant, in July 2013 to introduce a national regulator for fire safety.
The scope of the regulator would have included overseeing local government approaches to supporting fire safety compliance to provide a "consistent framework" for fire protection services.
The proposals had followed a series of concerns raised over the government's approach to fire risk assessors, including by the London Fire Brigade, two coroners investigating the Lakanal House fire and the government's own chief fire advisor. But an internal memo said that Lewis was "not keen on the proposed national regulator".
Asked by counsel to the inquiry Andrew Kinnier QC why he had taken this position, Lewis said: "I would imagine it would have been because of the wider issues around looking at how we make things efficient and effective with the schemes that we already have."
He added: "How do we ensure it doesn't just become another layer of regulation that doesn't deliver anything meaningful over and above what we've got and the capacity to deliver through the machinery that's already there?"
Kinnier asked: "So it was a generic objection rather than a considered evaluation of the advantages and disadvantages of the proposals?"
Lewis replied: "Conceptually, it's unlikely I would be attracted to creating another body on top of bodies we already have in existence. I'd be more interested in looking at how we use the bodies we've got."
Asked if he was content that intervention in the existing system was not required despite concerns about the competency of fire risk assessors raised by two coroners, Lewis said that he was.
Kinnier asked why "nothing was done in order to regulate when you had a cumulative weight of evidence that something needed to be done"?

He added: "Why, in those circumstances, was greater weight attached to an ideological presumption against regulation rather than taking action when it was plain the sector-led approach was not working?"
Lewis replied: "It wasn't just an ideological thing around devolving, it was also around what practically can make a difference. And practically making a difference is making sure that the right experts who have that understanding and expertise are available to the organisations that need that advice to get their fire risk assessments done correctly."
"But it wasn't working, was it?" Kinnier said. "This is the point we're dancing round, Mr Lewis, which your answers aren't grappling with – it wasn't working."
Lewis responded: "Well, the question you're asking me is why we made the decisions at that point in time, and my answer is: that's why we made the decision we made at that point in time."
Asked if there was an aversion to increased regulation, "even in the face of failure by the industry to remedy the problems about competence of fire risk assessors", Lewis replied: "I don't think that's fair."
The inquiry into the 2017 fire which claimed 72 lives continues.