Housing secretary due to make ruling on Fosters' tower imminently
Speculation is growing that Foster & Partners' Tulip will be given the green light – possibly by the end of this week.
Housing secretary Michael Gove, who replaced Robert Jenrick in last month's cabinet reshuffle, is due to make the decision by 11 November but Building Design understands he will announce his ruling by the end of the month.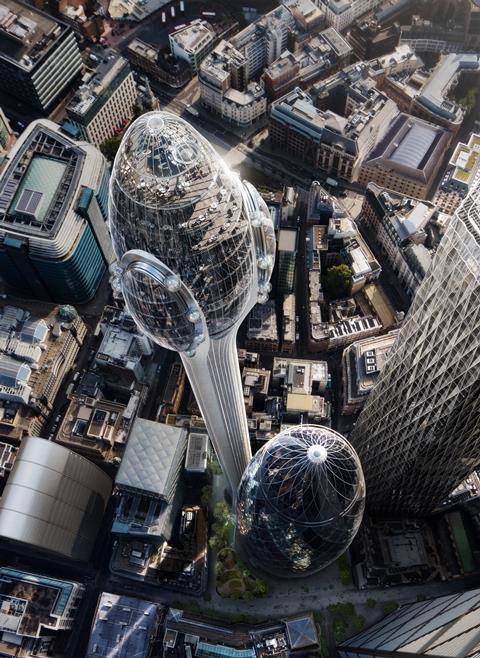 "The November date is the long stop but it will be before then," one source said. "Certainly, by the end of the month."
The 305m tourist attraction, which will consist of a 12-storey glass viewing 'pod' perched on top of a slender concrete shaft, was approved by the City in April 2019.
But London mayor Sadiq Khan overruled it on the grounds that its height violated the City's own planning policy for the cluster of towers where it would be built, which includes RSHP's Cheesegrater as well as the Gherkin.
Now speculation is growing the Foster & Partners-designed scheme will get the all-clear with sources telling Building Design that Boris Johnson's government is unlikely to side with London's mayor.
The scheme is planned for a site next door to Fosters' Gherkin which was built by Skanska more than 15 years ago and the same firm is one of four said to be looking at the deal which is believed to have a construction price tag of around £500m.
The others eyeing the job are Mace, Multiplex and Sir Robert McAlpine who have all been talking to the scheme's developer Bury Street Properties, the company headed by Brazilian billionaire and banker Joseph Safra which also owns the Gherkin.
Once it gets the green light from Gove, the formal tender process will begin with bid documents expected to be back next spring ahead of a winner being appointed in the summer for a start on site this time next year. Work is expected to last for around five years.
After Khan's refusal, Bury Street Properties launched an appeal into his decision and a planning inquiry was held in November and December last year.
The inspector's report was handed to the then MHCLG in July but its contents have not been made public.