Practice says design will be cooling in Osaka's sweltering summer months
Foster & Partners has revealed its designs for the Saudia Arabia pavilion at Expo 2025 Osaka.
It said the proposals were inspired by the organic massing of Saudi villages and had been carefully designed with computational fluid-dynamics simulations to allow cool winds from the west into its streets during the height of summer in Japan's second city.
The pavilion, which will be constructed from cladding featuring lightweight Saudi stone, centres on a courtyard that will be used as event space in the evening. The whole space has been designed to present a range of immersive experiences to visitors.
Fosters head of studio Luke Fox said the pavilion would be a "journey of discovery and chance encounters" that would paint a vivid picture of Saudi Arabian culture.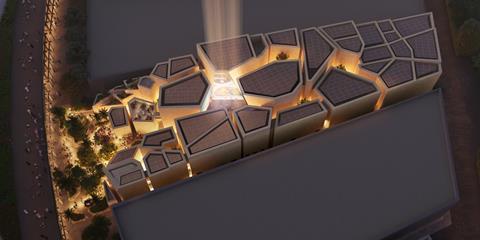 "Our design plays with scale, light, sound and texture to stimulate all of the senses, while showcasing some of the country's most innovative and exciting accomplishments," he said.
The pavilion is made from low carbon materials and includes energy-saving lighting. It features rainwater recycling and uses photovoltaic technologies to generate electricity.
Fosters said the pavilion had been designed to be taken apart and reassembled elsewhere for future uses. It is targeting the highest level of Japan's CASBEE green-building rating.
Expo 2025 Osaka runs from April to October on the reclaimed island of Yumeshima.