Architect joins Chipperfield, McAslan and others in halting projects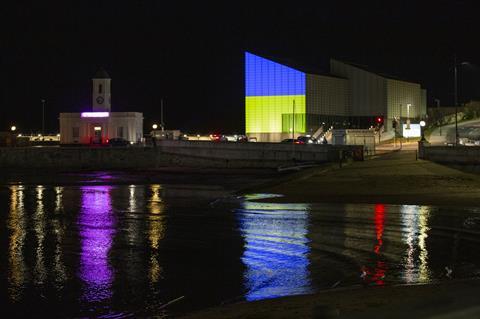 Foster & Partners has become the latest practice to confirm it has stopped work on all projects in Russia.
It joins a string of others including David Chipperfield Architects, John McAslan & Partners and LDA Design in announcing it will no longer work in the country which has been waging a brutal war on Ukraine for the last 12 days.
Fosters, which had two projects in the country which were at an early stage, issued a brief statement late on Friday saying: "We deplore the Russian invasion of Ukraine and as a result we have stopped work on all our projects in Russia."
David Chipperfield announced a similar move in a post on its website and social media stating: "Given the invasion of Ukraine, and with the full understanding and support of our clients, David Chipperfield Architects has decided to suspend all work in Russia.
"We condemn the actions of Putin and the Russian government and stand in solidarity with Ukraine and its people. As a practice we believe in dialogue, openness and engagement; values that are directly opposed to the ongoing war. We call for an immediate end to this human tragedy and our thoughts are with the innocent victims of this unjustified action."
Its Turner Contemporary in Margate was illuminated with the colours of the Ukrainian flag last week.
Aidan Potter, a partner at McAslans, said: "We have worked in Russia over many years and have strong bonds with our Russian clients, collaborators and the local culture but, like so many around the world, we're deeply alarmed by the unprovoked invasion of Ukraine and have decided to step back from any further work in Russia."
Zaha Hadid Architects has placed its two live Russian projects on hold. It was also working in Ukraine, on a project to build three metro stations in the eastern city of Dnipro. They had been due to open in 2025. ZHA did not respond to requests for information.
ZHA's Dnipro station designs
Landscape-led practice LDA Design, which has worked in Russia with the Strelka Institute architecture and media school and on projects to improve Soviet-era housing estates, said: "The invasion of Ukraine means that everything has changed, and our work in Russia must come to a halt for the foreseeable future. We are not taking up prospects and we are stopping our involvement in all projects there.
"Our thoughts are with the people of Ukraine who are calling on the rest of the world to support them. We sympathise with and are supporting our LDA Design Russian colleagues in our UK studios who continue to produce incredible work in difficult circumstances.
"We call for peace and long for light to win out over darkness."
Herzog & de Meuron said it had also suspended work on Russian projects "with the understanding of our clients".
It said: "The invasion of Ukraine and the violent actions of Putin and the Russian government are against every value we hold as an international, collaborative practice… We stand in solidarity with the people of Ukraine as well as the citizens of Russia who reject this violent takeover. As a company and community of over 40 different nationalities, our concern lies with both our Ukrainian and Russian colleagues whom we support through this unprecedented crisis."
MVRDV, architect of the Marble Arch Mound, said it had immediately stopped its involvement in projects in Russia until further notice.
In a statement it added: "As a practice, we are affected twofold. Our projects in Ukraine have sadly been put on hold by the atrocities. Right after the start of the invasion, we began contacting our Ukrainian friends and partners in support and we try to remain in touch. They are brave and they are experiencing incredible hardship. We have stopped our Russian projects, even though this means we have to stop collaborating with people we have known for years, and who are dedicated to bringing a more collaborative international outlook to Russia."
Other practices and competition organisers have already spoken to Building Design.
The climate crisis group Architects Declare, founded by Stirling Prize-winners in 2019, issued a statement expressing solidarity with the people of Ukraine and condemning "those involved in waging war against the country, the people, cultural artifacts and the natural environment".
It condemned the racist treatment of some refugees and urged all its signatory members to cease work on any major projects in Russia "until such time as the country is willing to respect international law".
It added: "Furthermore, we pledge our willingness to help defuse one of the biggest threats to global peace since the Second World War. Putin's war machine is very substantially funded by sales of gas to other countries. We therefore call on our respective governments to implement an emergency level of mobilisation in shifting our economies away from fossil fuels and towards a safer, renewably powered future. We as an industry will assist in implementing these measures and as Architects Declare we are committed to shaping a positive future for all."
Meanwhile RIBA president and AHMM director Simon Allford said: "Our thoughts are with all those affected by the Russian invasion of Ukraine, which has exposed the horrific effects of conflict on communities, and put the role that architecture plays in building resilient, collaborative and inclusive societies into sharp relief.
"We are examining the implications for architects working from or seeking work within impacted areas. In the first instance, we recommend those directly affected keep up to date with the latest UK Foreign, Commonwealth & Development Office advice, and professionals consult the UK government's business support helpline to ensure they are aware of the potential risks and challenges of working in this environment."
Postscript
How is the war affecting your practice? How are you responding? Email our newsdesk on contact@bdonline.co.uk