Up to 7,000 homes could be eventually built at Charlton Riverside development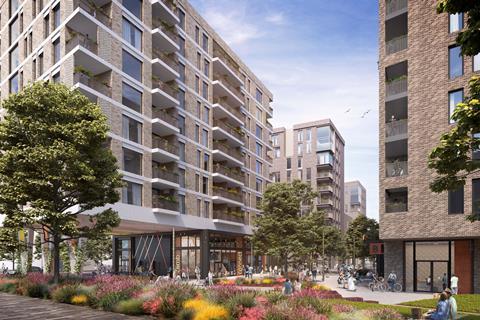 Fletcher Priest Architects has been given the green light for a 1,200-home development on a former industrial site on the south bank of the Thames.
Greenwich Council voted in favour of the plans for housing association Hyde, which are part of the Charlton Riverside regeneration project just west of the Thames barrier.
Known as the Herringham Quarter, it will include 40% affordable housing and ground-floor workspace in a series of six- to ten-storey buildings.
Fletcher Priest drew up the masterplan for the site, with detailed proposals being developed by Alan Camp Architects and Grant Associates working on landscape design.
The first 718 homes, in the initial phase of the scheme, are expected to be completed by 2026. Greenwich Council also gave outline permission for a further 494 homes to be built in a future phase.
Charlton Riverside is a 122-hectare regeneration site that is expected to eventually deliver 5,000 to 7,000 homes, 50% family housing and 35% affordable in low to medium rise properties.
Hyde last year completed 651 new homes and started a further 1,926. It has been allocated £250 million to deliver 3,000 homes under the Homes England strategic partnership programme.
It also earlier last year agreed a deal with institutional investor M&G to fund a £500m development pipeline to deliver 2,000 new home for shared ownership.