Grade II-listed former town hall would host 73 new homes under just-lodged plans
Architect and masterplanner JTP has drawn up proposals to convert the Art Deco former Greenwich Town Hall into a mixed-use scheme with 73 new homes, workspace and shops.
JTP's proposals for developer Riverlow Group would see the addition of a rooftop extension to the south London landmark, which falls within the buffer zone of the Greenwich Maritime UNESCO World Heritage Site.
The grade II-listed building, now known as Meridian House, was designed by Clifford Culpin under the influence of Dutch modernist architect Willem Marinus Dudok and completed in 1939. It features a 56m clock tower and observation deck.
Greenwich council left in 1965 and the building was converted for office use. Most recently it was the base for Greenwich School of Management, but it has been disused since the higher-education provider went into administration in 2019.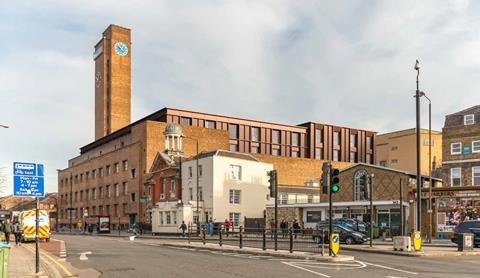 JTP's rooftop extension would be three storeys at its highest. Other elements of the project would see the refurbishment of the existing building to deliver 1,200sq m of flexible community and employment floorspace.
A planning statement submitted as part of the application said the rooftop extension would house 19 of the new homes proposed as part of the scheme, with the remaining 54 units being created from the conversion of existing space within the building.
It said the design of the roof extension had been "inspired by the distinctive architecture of the current building" and sought to "extend the regular grid of fenestration while respecting the austerity of the existing design".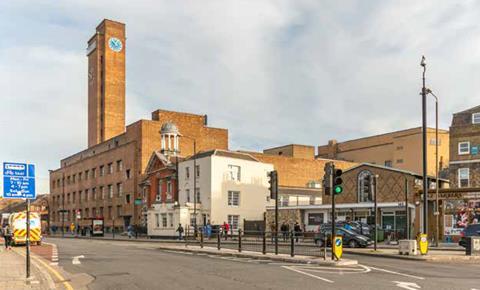 "The windows repeat the existing pattern of fenestration so that the original proportions of the facade are maintained; however, the extension adds a modern twist with deep vertical fin detailing around each opening," it said.
"Vertical fins are proposed as part of the elevational treatment to gently juxtapose and accentuate the austere horizontality of the original building. A thick coping caps the extension which reinforces the extant horizontal form of the building."
The statement said JTP's proposals "paid specific attention" to the heritage value of Meridian House and added that the proposals' commercial and community uses would "pay homage" to the municipal legacy of the building.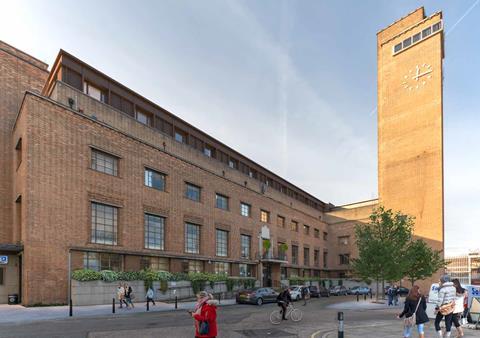 It added that work was under way to secure public access to the tower's observation deck at specified times, possibly through the annual Open House event or via the Greenwich Society.
The document said the Royal Borough of Greenwich did not have a policy on the quantum of affordable housing that should be delivered through build-to-rent schemes, but proposed 11 units to be let at 20% to 40% below market rates.
Greenwich has not published a target determinate date for the proposals. They are open to comments until 13 July.