Proposals unveiled for relocated debating space as part of Palace of Westminster's long-term refurb
Parliament has today released images of AHMM's "temporary" chamber that MPs will use while the Palace of Westminster undergoes its long-planned refurbishment, led by BDP.
Controversially, House of Commons business will relocate to a redeveloped Richmond House, on Whitehall, while the House of Lords will sit at the QEII Centre.
Architectural heritage campaigners object to the destruction of all but the façade of grade II-listed Richmond House, the 1987 former Department of Health headquarters. Michael Hopkins and Save Britain's Heritage published an alternative proposal for the temporary adaptation of Portcullis House.
AHMM's proposals will essentially create a new building with a triple height central lobby space that reveals the inside of the retained façade.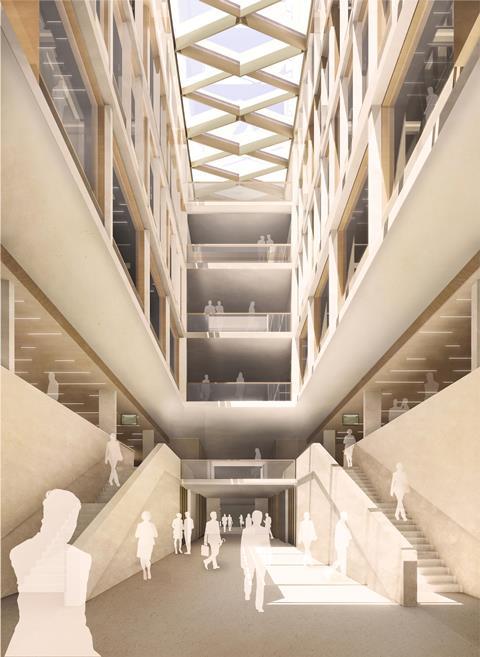 Founding partner Paul Monaghan said the practice's design approach for Richmond House "reflected the best qualities of the existing buildings on the site" to create a confident, contemporary new place for parliament which "knits together" existing elements with new structures.
"Whilst the new building is being designed to provide space for the specific purpose of the temporary House of Commons chamber and offices for MPs and their staff, its longer-term use has been carefully considered to remain as flexible as possible to offer a range of future legacy uses," he said.
Long considered at risk of a serious fire, the grade I-listed Palace of Westminster – itself a Unesco World Heritage Site – will still be in in use until the mid-2020s under the current refurbishment timetable. The cost of the work is projected to be a minimum of £3.5bn at 2014 prices.
Meg Hillier, who chairs parliament's Public Accounts Committee told BBC Radio 4's Today programme that the full cost of the work could not begin to be known until the buildings had been vacated and a full assessment of what was required had been made.
"There are lots of unknown things in the building, lots of asbestos, there are layers of services… you have steam pipes next to electrical pipes… wires that you wouldn't cut because you don't know what they're attached to," she said.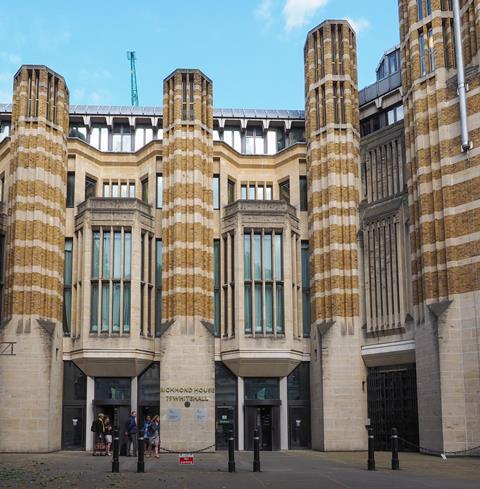 Earlier this year, Liz Peace – who chairs the shadow sponsor board of the restoration and renewal project – said work would start "by the mid-2020s and last between six and seven years".
Shoreditch MP Hillier suggested a longer timescale on the Today programme. "Eight years, ten years, it's very difficult to be absolutely sure," she said.
Richmond House is part of the high-profile contract to upgrade a number of buildings set to contain MPs' offices in Westminster, known as the Northern Estate Programme. BDP is the lead architect on the Northern programme as well as on the Palace of Westminster. Parliament's latest cost estimate for the programme is £600m-£800m, half of which is expected to relate to Richmond House.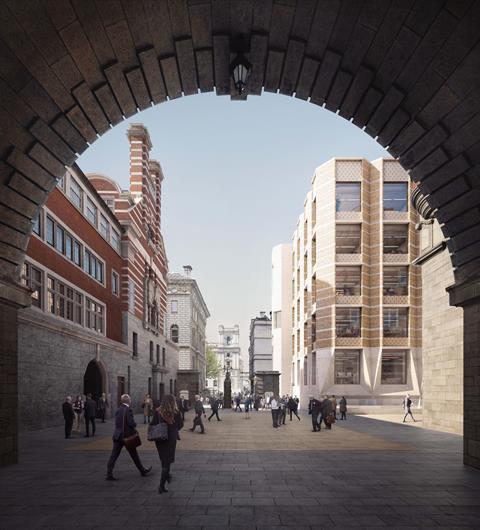 The Northern Estate scheme includes the grade-I listed Norman Shaw North and grade-II listed Norman Shaw South buildings – both over 100 years old – and 1 Derby Gate and 1 Parliament Street – two grade II-listed buildings from the 1880s. Together around 15,300sq m of office space will be refurbished.
Most of the buildings have not been refurbished in more than 40 years and so essential works are now needed to improve fire safety, building performance and M&E services.
The proposals unveiled today are out to consultation until 28 June.