Twenty-two storey scheme will replace 1970s office building opposite Arndale Centre
Feilden Clegg Bradley Studios has been given the green-light for a 22-storey mixed-use building in Manchester city centre that it says will be "distinctly Mancunian".
The High Street development, which references nearby art deco buildings – such as the grade II-listed Sunlight House and Rylands Building – won the backing of members of the authority's planning and highways committee at a meeting last week.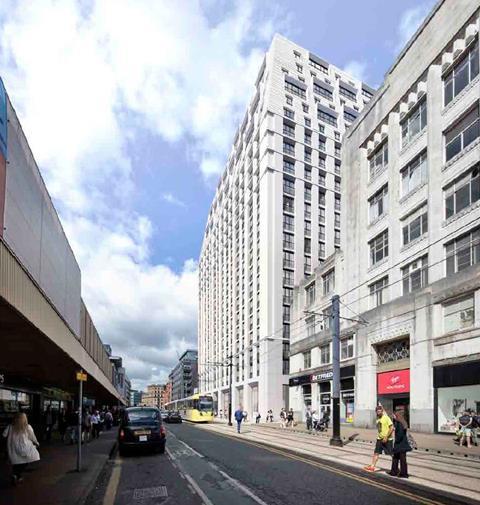 Set to deliver 361 new apartments as well as ground-floor retail space, the development will also reopen historic routes through the site as arcades, including the reinstatement of Stationer's Court as a publicly accessible covered square.
The plans, drawn up for client CEG, also involve the creation of a selection of one- and two-storey market stalls at nearby Church Street to replace facilities that will be lost under the High Street proposals.
Recommending the scheme for approval, Manchester planning officers said the development would deliver a high-quality building and regenerate a poor-quality site that is currently mostly occupied by a 1970s office building.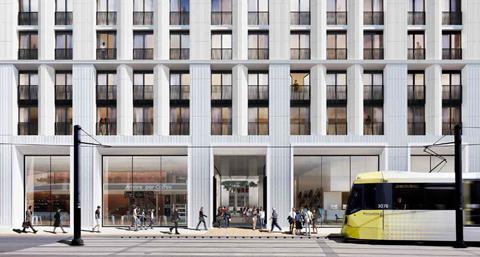 However they recognised that the loss of a Victorian-Edwardian former warehouse building at 20-22 High Street, which the scheme also requires, would have a negative impact on the area.
"The site could accommodate a building of the scale and massing proposed without harming the character of the Smithfield conservation area or the setting of adjacent listed buildings," they said.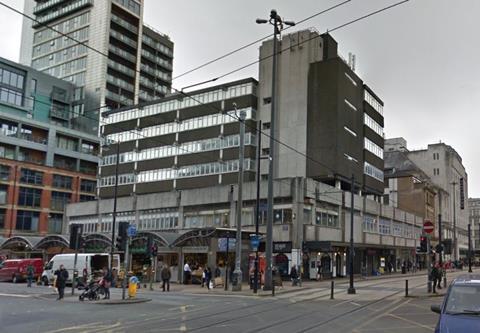 "The façade has been based on the characteristics of the conservation area. The street-frontages to Church Street, High Street and Birchin Lane would be revitalised and retain street-edge enclosure, while also complementing the vertical rhythms, established scale and visual texture of the individual streets."
Officers accepted that the loss of 20-22 High Street caused "less than substantial harm" to the conservation area. But they insisted that the impact was justified by the wider public benefits delivered by the regeneration of the whole site.