Practice dubs mixed-use building a 'tribute to the city's past'
Feilden Clegg Bradley Studios has revealed proposals for a 22-storey mixed-use development in Manchester city centre inspired by some of the city's past architectural glories.
Developer CEG has commissioned the practice to design a replacement building for a 1970s office block opposite the Arndale Centre on the city's High Street. The scheme, which is still the subject of pre-application consultation, envisages around 360 apartments, as well as new retail and leisure space.
FCBS partner Alex Whitbread said the practice had drawn inspiration from the best architecture in the development site's immediate surroundings, as well as from 1930s city gem, the grade II-listed Sunlight House.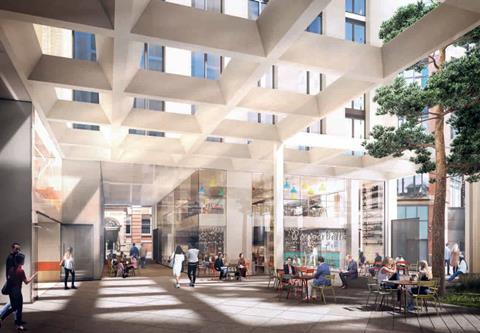 "Our design approach looks to create a new iconic landmark at the key corner of High Street and Church Street where the Northern Quarter and the city centre retail quarter meet," he said.
"The architecture refers to the city's past, drawing on the adjacent Debenhams and grand office buildings such as Sunlight House to create a new building which is distinctly and proudly Mancunian."
The practice has also created plans to relocate market stall-style units fronting the development site's Church Street elevation, which CEG said would return them to their "historic home", next to a nearby car park.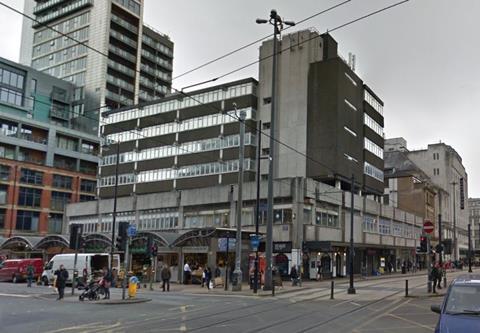 CEG head of strategic development for the north David Hodgson said FCBS's proposals had responded to an earlier consultation exercise by introducing a roof terrace and courtyard garden.
He added that the proposals would include a covered plaza including shops and restaurants, and which would provide a new pedestrian route across the site.
FCBS also this week announced it had taken more space at its base in the city's Carver's Warehouse. The practice opened its Manchester outpost there in 2015.
Managing partner Geoff Rich said it would give the practice "better space" for design activities and hosting clients, collaborators and visitors.