21,500-capacity venue would be UK's largest concert arena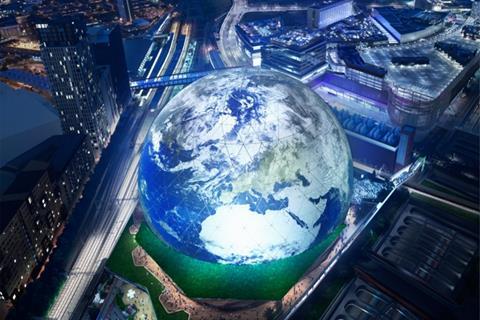 The fate of Populous' 96m tall spherical entertainment arena for Stratford is set to be decided next month.
The 21,500-capacity MSG Sphere is scheduled to be heard at the London Legacy Development Corporation (LLDC) planning committee on September 28. It went in for planning in March 2019.
The proposals have stirred up huge controversy because of the building's size and also because its entire skin will be covered in illuminated LEDs beaming advertisements in every direction around it – including into surrounding flats.
Promoted by the Madison Square Garden (MSG) entertainment group, it is planned for a 1.9ha triangular site between railway lines next to the Westfield shopping centre and close to the London Stadium – the former Olympic stadium which was also designed by Populous.
Historic England warned it would do some damage to nearby conservation areas because of its height, massing and "intrusive disturbance on their settings".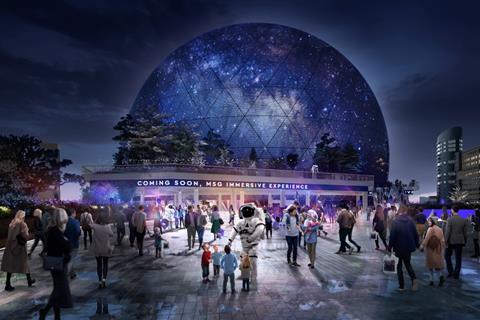 West Ham FC have written to the LLDC to point out that it only agreed to move to the London Stadium on the basis that its matches would take precedence over any other local events. The operators of the 02 are also objecting to the venue which they see as a rival.
Newham, in whose patch it stands, objects, as does Hackney whose officers said the glow would have a detrimental impact on ecology in the Lee Valley.
The Guardian reported that MSG bought the site for more than £60m in 2017 from Westfield which in turn bought it for £9m from London & Continental Railways just two years before.
The Newham Recorder reported that Jayne McGivern, MSG's president of development and construction was previously an LLDC board member and that numerous unminuted phonecalls took place between her and LLDC chief executive Lyn Garner. LLDC said it was entirely normal for officers to talk to significant landowners about their plans in order to help shape major developments.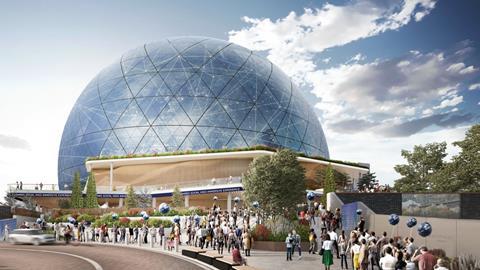 The Sphere, which will have a diameter of 120m, is similar to a $1.8bn venue MSG is building in Las Vegas which is due to open in 2023.
In addition to the main venue, the plans include a smaller music club or nightclub, retail space, a cafe, restaurants and outdoor spaces.