Report's delay caused by row over funding
The government's heat and building strategy should be published within weeks, the UK's net zero business champion has said.
Earlier this week, industry experts told the government to stop dithering and publish its plan for decarbonising buildings following reports that it has been delayed by a row over funding.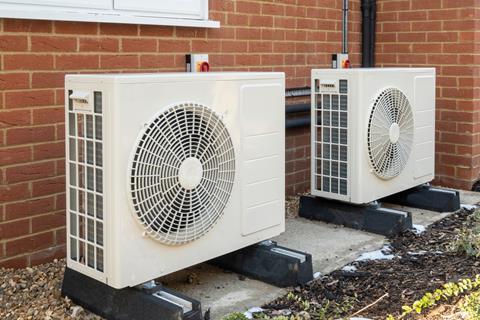 The plan was originally promised earlier this year but media reports last week said that ministers now expect it no earlier than September.
Speaking as part of a Building Design webinar, MP Andrew Griffith said he did not expect the delay of its publication to be long term.
He said: "It is definitely still coming, and we are talking about weeks not years.
"One person's delay is another person's chance to get it right. We don't want false starts and missteps."
It is believed the government talks have been stuck over how subsidies to incentivise people to buy heat pumps will be funded amid fears tax hikes will lead to a backlash from voters.
Heat pumps, which can save up to 80% of carbon emissions, currently cost up to £35,000 each, can emit noise which breaches legal limits and are at least 10% more expensive to run than traditional gas boilers.
But the green heating systems, which work by absorbing heat from the environment, are a key element of the government's plans to cut carbon emissions from buildings as part of its goal to achieve net zero by 2050.