New administrative capital features central business district created by Perkins & Will in collaboration with Dar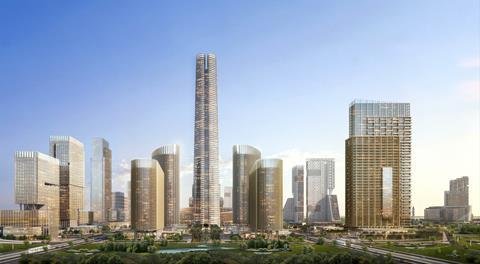 Perkins & Will and its parent company Dar Group have revealed new images of part of the huge new administrative capital development being masterplanned for the Egyptian government.
The 23sq km Capital Park is described as the "commercial backbone" of Cairo's new administrative capital and was created by Dar for a site that is approximately 45km from downtown Cairo.
It features three distinct commercial zones centred around a "world class Central Park" described as being larger than its New York namesake and bookended by a new Grand Mosque and a 385m tower with an illuminated crown "inspired" by the Obelisk of Luxor.
Dar said the Central Business District East had been designed by its in-house architects and colleagues from Perkins & Will, the architecture practice it owns, and would deliver 1.7m sq m of commercial space, including a central utility complex with a smart city command centre and 20 high-rise buildings.
It said the tower would be the tallest in Africa and offer 150,000sq m of Grade A office space as well as a five-star hotel.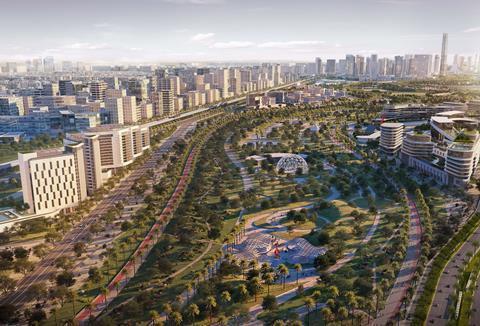 The downtown area has also been designed to feature museums, galleries, theatres and cinemas, shopping arcades and department stores.
Dar said Capital Park was projected to create 450,000 jobs while its 21 new residential areas would house more than 180,000 people.
The development's governmental zone, which incorporates the ministerial, financial and central station districts, is now well under construction with the first government ministries due to open their doors in 2019.
Dar added that site preparation work for the CBD East element of the project was currently under way.
It said state-of-the-art infrastructure and transportation systems will enable rapid internal and external connectivity for thousands of commuters travelling to and from the new administrative capital, via inter-city monorail, light rail, tram and electric bus networks