Young Architect of the Year Award contender is on the team
A team led by consultant Arcadis has been appointed to design and manage the redevelopment of the Harrogate Convention Centre – which was home to the town's Nightingale hospital during the first peak of the covid-19 pandemic last spring.
Others working on the plans including Leeds-based YAYA finalist Group Ginger, consulting engineer Silcock Leedham, engineer Buro Happold and acoustics consultant Charcoal Blue.
The 500-bed hospital will close next month, without treating a single covid-19 patient, the NHS said earlier this month.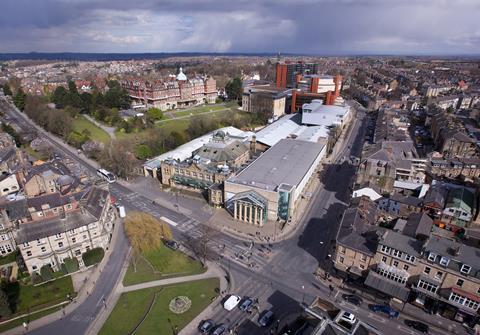 Designed by BDP and built by Bam, it was opened by the late Captain Sir Tom Moore last April. Construction costs have been estimated at around £11m out of total set-up costs of £29m.
The centre sits on the town's Ripon Road and King's Road and has hosted the Chartered Institute for Housing's annual conference, the Toy Fair, a bridal exhibition and Liberal Democrat annual party conferences.
But a number of shows have moved away to cities such as Manchester in recent years and the venue's owner, Harrogate council, has asked Arcadis to run the rule over it in order to attract more exhibitions in the future.
One idea being discussed by the council is to involve demolishing existing exhibition halls and replacing them with a new 5,000 sq m hall and a refurbished auditorium.
The first phase of Arcadis' work is to look at improving the centre's conference facilities as well as refurbishing then auditorium.
The venue is due to open in late June once the government's current lockdown restrictions have finally eased.