Heritage campaigners call for urgent halt to 'alarming' destruction of kitchens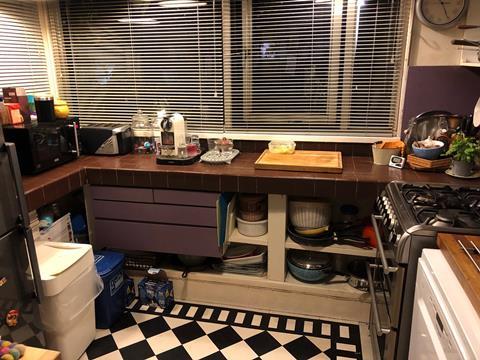 Heritage campaigners have raised the alarm over council refurbishment work at Alexandra Road which they say is destroying important original fabric at Neave Brown's grade II*-listed estate.
Camden council contractors are currently carrying out modernisation work on kitchens and bathrooms, removing historic features despite concerns flagged by the Tenants & Residents Association (TRA).
Representatives from conservation bodies Docomomo UK and the Twentieth Century Society have carried out inspections in the last few days and are calling for the contractors to be urgently re-briefed.
"We were disturbed to inspect one kitchen where all the original concrete worktops and plywood joinery had been smashed out," said Tom Cordell from Docomomo. "The resident was distraught, telling us that far more of her kitchen had been removed than she had agreed with the contractors."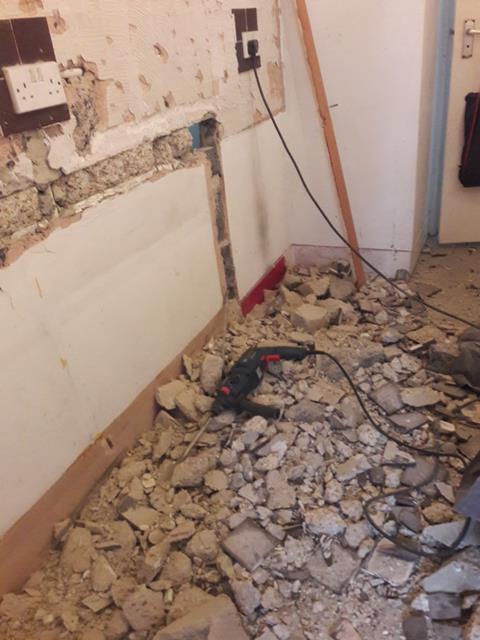 Mark Swenarton, an authority on Camden's post-war council housing, said: "Neave Brown's Alexandra Road is recognised as one of the architectural masterpieces of the 20th century. That Camden, for whom and by whom it was built, should be responsible for this act of vandalism beggars belief. Camden's big chiefs, whether councillors or officers, need to act immediately and take whatever steps are necessary to prevent further damage being done."
Docomomo's understanding was that the council had divided the kitchens and bathrooms into two categories based on a checklist to assess their historical significance.
"Only the few which retain most or all of their original fittings are being preserved, while the remainder are being destroyed. We believe that runs contrary to conservation best practice," said Cordell.
Sara Bell, secretary of the TRA, told BD she had called a halt to the work on her flat after becoming concerned that the categorisations were based on mistaken assumptions, such as the relative importance of cupboards and worktops.
She added: "[The council flowchart] says I have a second tiled worktop – well I don't and my B3 type never did. I think all the flow charts include elements that don't exist. I scored myself and it was 'high significance' yet the contractors scored me as a 'low'. It just doesn't make any sense."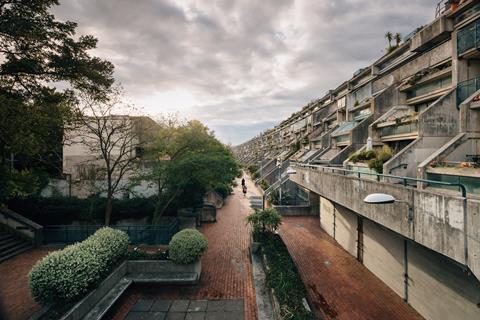 The works are part of Camden's ongoing Better Homes Programme which was introduced under the Blair-Brown government to bring all public-sector homes up to a minimum standard. They were approved under a heritage partnership agreement (HPA) signed in 2016 and prepared by Historic England and the architect Levitt Bernstein which specifies that listed joinery and tiling not required by one flat should be carefully removed and retained for reuse in others.
The HPA says: "The consented works get as close as possible to the Better Homes Standard while taking account of the significance of this grade II* listed estate."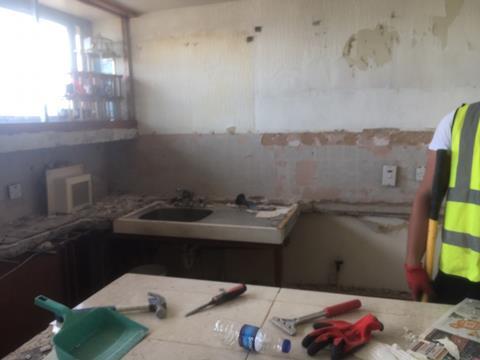 But residents are reporting that material is being thrown into skips. And Cordell said the planned replacements were poorly designed and used inappropriate materials – "with wood worktops replacing concrete originals, and inferior-quality mass-produced laminated chipboard units in place of the custom-made plywood originals".
He added: "Alongside the removal of original partition walls in some kitchens, this work fundamentally damages the intended spacial flow of the flats."
The project set a "worrying precedent", he said, and was inconsistent with the council's previously responsible attitude to enforcing the building's listed status by preventing private owners from carrying out non-compliant works.
Grace Etherington from C20 has written to the council urging an immediate halt to the "alarming" work.
She said: "There are several aspects of the ongoing work that are inconsistent with the approved HPA and therefore do not have listed building consent." These included the contractor's failure to honour the agreed "presumption in favour of retaining original features".
"Substantial elements of original features are being removed from low significance kitchens even when this is against residents' wishes, and they consider them to be in serviceable condition," she wrote.
"Camden's briefing to the contractors should therefore be urgently reviewed, to prevent further loss of valuable historic fabric."
She also said: "I have seen for myself that clearly salvageable original fabric, including wooden cupboard doors, drawer units, and tiles that are in a condition suitable for restoration and refitting are instead being dumped in the estate's bulk waste collection area. This is unacceptable and should be avoided at all costs.
"I understand that salvaging of original fabric was specified as a condition of the listed building consent. It is clear that this condition is not being fulfilled… It is vital that this oversight is remedied as a matter of urgency, as this jeopardises the plan to reinstate original fittings into high significance kitchens.
Etherington also criticised the electrical rewiring programme because contractors were making no attempt to use the original routes and conduits, she said, despite this stipulation in the HPA.
She added: "In the flats I visited, ducting travels across the middle of walls and ceilings to connect light fittings, switches and smoke detectors, in kitchens, hallways and living rooms. The new ducting is intrusive and bulky, and is not consistent with the high quality, natural materials chosen by the estate's architect Neave Brown for the interiors of all flats. It needs to be stressed to contractors that plastic ducting is only acceptable in exceptional circumstances, and should be restricted to inconspicuous locations where deemed necessary."
The Alexandra and Ainsworth Estate was built in 1968-78 and contains 500 homes each with their own front door, as well as other amenities. When it was listed in 1993 it was the first post-Second World War council estate to receive such protection. Neave Brown was awarded the RIBA's Royal Gold Medal in 2017, a few months before his death last year.
Camden council issued a statement in response to BD's questions which insisted the works were being carried out "with due regard to the HPA" which it said was "developed in lengthy consultations with Historic England and the residents and approved by the local planning authority".
It said: "We are working closely with Historic England to ensure all works are being done correctly… The HPA allows the removal of certain heritage features in particular circumstances, depending on various factors including the number of original features present.
"The health and safety of residents is of paramount importance to the council and the works being undertaken will ensure that this objective is met. Homes are being upgraded to modern standards to the extent that is reasonable and practicable within the constraints of their listed status and a significant amount of discussion and planning has taken place to ensure that the heritage is maintained where possible.
"The delivery teams are working closely with the council's enforcement team and conservation officers, as well as an independent consultant architectural practice, to audit the implementation of the HPA."
It acknowledged the terms of the HPA required a salvage schedule and said it had commissioned Levitt Bernstein, "consultant architects with an in-depth knowledge of the estate… to assist with that process".
It added: "Alexandra and Ainsworth Estate has listed status; the council is proud of this status and is working to ensure that it delivers home improvements while preserving this asset and its architectural heritage."
Postscript
This story has been updated with Camden's response.