Architect is latest big name to cancel - but London Stand organiser stays firm
Update: Austin-Smith:Lord has said it will not be attending Mipim. HOK's London office has also announced it is pulling out of Mipim. It made the announcement in a tweet.
Due to the ongoing concerns with the spread of the Coronavirus, HOK's London Studio has decided to withdraw from #MIPIM2020. HOK places a priority on the health and wellbeing of its staff hence this challenging decision, which sadly is affecting so many people and organisations. pic.twitter.com/3yJtL0J1SF

— HOKLondon (@HOKLondon) February 27, 2020
It came as the organiser of the London Stand at this year's Mipim has said it is still planning to go to next month's show. Buckley Gray Yeoman has also said it will attend.
Meanwhile the first case of coronavirus in Cannes has been confirmed by the mayor of Nice Christian Estrosi. Reports said a 23-year-old fashion student who recently returned from Milan has tested positive for coronavirus at the Nice University Hospital.
Several big property agents and developers have pulled the plug on the event in the last 24 hours which usually attracts 23,000 people from all over the world including many architects.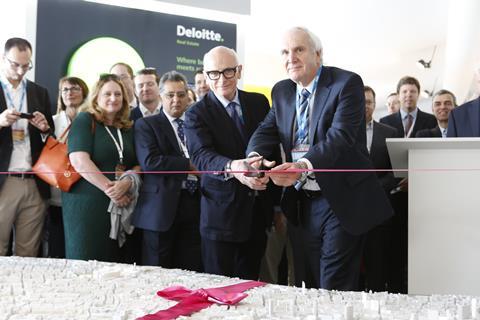 But the co-founder of New London Architecture (NLA), Peter Murray, told Building Design it was still planning to attend this year's event on the French Riviera.
NLA is also behind a series of conferences and talks at the four-day show and Murray added: "Unless the official advice changes, we'll be going. We're watching things very carefully and following Foreign and Commonwealth Office advice."
He added: "I'm quite shocked at the companies who have decided to pull out at this stage.
"It's a personal choice I know but my personal choice is we will go until the official advice changes."
Around a dozen NLA staff are set to make the trip to Cannes.
WGP Architects, which is behind a gym-themed attraction on the London Stand called the Mipgym, is also still planning to go.
Other architects are also still planning to go, while monitoring the situation closely. Make's Ken Shuttleworth is due to join two colleagues who are set to take part in the epic annual Cycle to Cannes ride which is scheduled to depart on Thursday.
Cannes is an hour's drive from the Italian border which has in recent days become Europe's worst-affected country. More than 400 cases and 12 deaths have been recorded in Italy with the outbreak centred on the northern Lombardy region.
Organiser Reed Midem published a statement today confirming Mipim would go ahead as scheduled from March 10-13. But it added: "We are continually monitoring developments and following the latest guidance from local, national and international authorities and the WHO as it relates to travel to Mipim and clients' on-site experience." It is publishing Mipim coronavirus updates here.
But several big firms annnounced they were pulling out, including Savills, Landsec, Cushman & Wakefield and US giant PGIM Real Estate, along with Sheffield- and London-based Urbana Town Planning.
A Knight Frank spokesperson said: "The evolving nature of [coronavirus] in Europe has forced us to reconsider our presence at large multi-national events. To that end we will no longer be attending Mipim. The health and security of our people and clients are of utmost importance and have to be prioritised over all else."
Architectural communications specialist Robert Fiehn tweeted:
What do you do if you're an employer sending people to MIPIM? Do you ask each team member if they're still willing to go or just ignore that you're potentially sending people into a danger zone? Just thinking about the various architects, PRs and institutions that I know.

— Rob Fiehn (@Rob_Fiehn) February 27, 2020
Meanwhile questions are now being asked about whether this year's Venice Architecture Biennale will be able to go ahead as planned. It is due to open on May 23, curated by Hashim Sarkis.There is no official word yet.
Museums in seven regions across northern Italy have been ordered to close, including Milan's Fondazione Prada which was designed by OMA, as well as public institutions such as La Scala opera house and Milan cathedral.