As row over country's biggest infrastructure project escalates, Daniel Gayne reports on a downbeat mood in Manchester
Will he? Won't he? Has he? Hasn't he?
The construction industry and the nation at large have been waiting to know the prime minister's decision on whether or not HS2 will be cut to a shuttle service between Acton and Aston.
And for a brief moment on Monday afternoon it seemed they had their answer when ITV's Robert Peston reported that Rishi Sunak had made up his mind to cut the Manchester link and redistribute the money to other rail schemes in the north of England.
But before the dust had a chance to be kicked up (let alone settle) a Number 10 spokesperson corrected these reports, insisting that no such decision had been made.
All this controversy comes as the party congregates for its annual conference, which this year takes place in the comically inappropriate location of a converted railway station in Manchester. The party's most senior leaders seemed desperate to avoid the issue, leaving it to their subordinates to field awkward questions at various fringe events.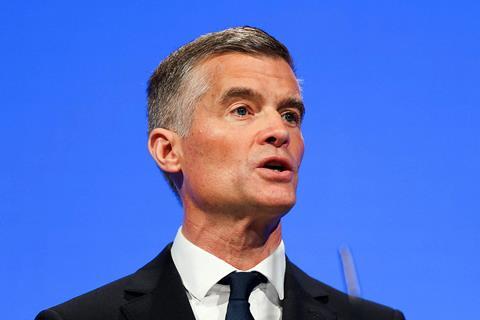 Neither chancellor Jeremy Hunt nor transport secretary Mark Harper mentioned the nation's largest infrastructure project a single time in their conference speeches and the latter swerved questions about its future during a sit down interview with rail industry leaders. When this reporter tried to ask Harper a question on the scheme after that fringe event, the minister simply walked on by.
Elsewhere in the conference, Harper's subordinate responsible for HS2, Huw Merriman, endured an awkward panel session with Henri Murison, chief of the Northern Powerhouse Partnership (NPP). The infuriated Murison accused the government of dishonesty in its briefing about plans to redistribute any cut to HS2 to other schemes in the north.
>> Also read: Unions demand government calls HS2 summit to get project 'back on track'
>> HS2 cuts risk turning railway into 'shuttle service' between Acton and Birmingham, says Armitt
Murison said: "Why on earth would the government not be more honest about the fact that if you cut HS2 between Birmingham and Manchester, you'd have to put £15bn back in the NPR budget to avoid cancelling NPR as well?
"I think what I'd ask from the minister is a bit of honesty. When he talks about the priorities of HS2, does that mean that NPR will be lost as well?"
Merriman said that the problem with HS2 - that it had gone over budget and over time - was "well documented".
"But we are delivering HS2 right now. I know people talk about spades in the ground – there are tunnel-boring machines in the ground," he said. "But it is a project that has been beset with difficulties. If all of the budget goes on increased costs for HS2, then it gets lost for other parts [of the country]."
Andy Burnham rails against mooted cuts at industry reception
On the 23rd floor of SimpsonHaugh's Beetham Tower, leaders of industry and politics surveyed the Manchester cityscape and ground their teeth over rumoured cuts to HS2.
Andy Burnham made an unadvertised appearance at 'The Rail Reception' in the Hilton Hotel, hosted by the High Speed Rail Group, Railway Association and Rail Partners.
The mayor of Greater Manchester joked that the organisers had probably not anticipated the topic being of such interest when they arranged the event, before launching into a speech where he insisted that, in the decision over the future of HS2, "our reputation is at stake as a country".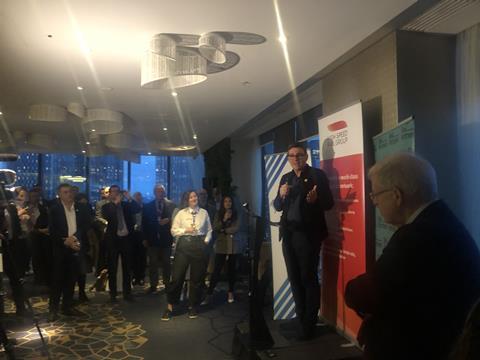 Burnham said he would be "open" to a conversation about a re-phasing of rail priorities, with east-west links in the north brought forward, "as long as you protect the line to Birmingham and as long as you keep that land assembly that is already in place there so that the line could be completed in future".
He said that the government was at risk of "confirming something to people in the North of England that they have long suspected", that they are "second class citizens" when it came to transport. "In London, no one was asked to choose between whether they could have the Elizabeth line or whether they could have HS2," he added.
Following Burnham's speech, former transport secretary Lord Patrick McLoughlin said he agreed with the mayor, saying decisions on infrastructure investment should "not be made in isolation" without consulting elected mayors. He also suggested that those pushing for cuts today on the back of rising costs were in fact seeing the results of their own earlier demands for the scheme.
The people who say the cost has gone up were the people who demanding tunnels in various areas – well tunnels do come out a bit more expensive than laying it over open ground

Lord Patrick McLoughlin, former transport secretary
"Sometimes big projects do go over budget," he said. "We should be talking about that and we should be questioning why it has gone so much over budget. Some of the answer is changes that have been made to it – asking for more. The people who say the cost has gone up were the people who demanding tunnels in various areas – well tunnels do come out a bit more expensive than laying it over open ground."
Rail industry leaders in attendance seemed baffled at the recent move towards cutting the scheme and echoed Burnham's complaints at the lack of consultation. One linked the decision to the government's reversal of net zero policy, speculating that it was part of a "core voter" strategy ahead of the next election.
Another – a veteran business development director of a firm involved in a HS2 station scheme – noted wearily that "politician fall in and out of love with rail," hinting that we may simply be at the nadir of another political cycle. All hoped, along with the mayor, that the land assembly between Birmingham and Manchester would, at the very least, be protected.
"It's not about delivery of railways, it is about whether investment in the UK is secure," said one attendee, representing an international engineering consultant, who said he was aware of real estate investors that were already pulling out of deals in Manchester on the back of the rumoured cuts.
He was not convinced by claims that the money could be reinvested in other northern rail upgrades, explaining that the necessary legislative powers had not been put in place.
Addressing the potential to re-start the scheme in the future, he added: "It might be that they cancel it, get kicked out of office and Labour want to start it up again. Good ****ing luck with that, the supply chain is gone".
The NPP later issued a statement from Murison describing it as "madness to leave what what meant to be the UK's flagship infrastructure project like this".
"Unless we can protect the Hybrid Bill, which is currently going through Parliament and which authorises the tunnel between Manchester and Manchester Airport, this means the end for Northern Powerhouse Rail and levelling up as a whole is finished," he said, urging the prime minister to reconsider.
Michael Gove was one of the few frontbenchers willing to offer anything on the scheme. Speaking at a packed Centre for Policy Studies fringe event on Sunday, he suggested east-west links could be prioritised. "Everyone wants to know what's going to happen with HS2 […] the prime minister and the rest of us will say more in due course," he said.
"Everyone will try to tease out of us more than that, but we in this conference will be clear that every transport project has to be scrutinised for value for money. My pushback but qualification is – if you're thinking about transport overall, not only north to south, but also east to west, and also critically our transport links within the city regions."
Speaking to Building after a fringe event, construction minister Nusrat Ghani refrained from taking a strong line in favour of delivering the scheme in full, but gave a strong hint as to her personal view on the matter. "I had HS2 in my brief and I am a Brummie so you should know where I stand on it," she said.
West Midlands mayor Andy Street also commented on the issue at an Onward fringe event, saying: "If you tell the international investment community you are going to do something, you bloody well better stick to your word".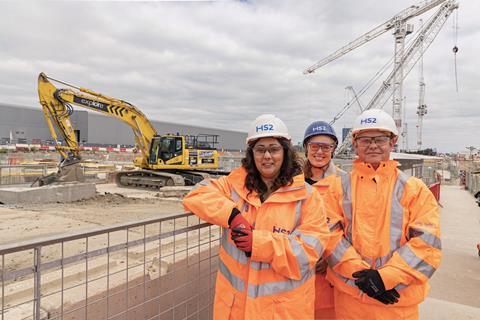 Harper, it seemed, was keen to talk about anything but rail. In their conference speeches on Monday morning, both he and energy secretary Claire Coutinho took Sunak's new pro-motorist stance and ran with it. Rather than talking about infrastructure, Harper used his speech to threaten to block councils from using DVLA data to fine drivers as part of a broader attempt to fight so-called 15-minute cities.
Meanwhile, Coutinho walked a careful line, avoiding a total abandonment of the net zero cause. She said it was "not the climate deniers who threaten net zero", but Keir Starmer's Labour Party, who she accused of making the policy a "religion".
>> Conservative conference: Gove pledges nutrients reform bill at 'first available opportunity'
"If we are to succeed, net zero can't be something that's done to people by a privileged elite," she said, explaining the decision not to compel households to change their gas boilers. "Our carbon emissions will continue to fall, but people will be able to make the transition when the price is right for them," she said.
It remains to be seen whether Sunak's four-wheeled culture war will be a hit with voters, but his willingness to junk long-term strategies on net zero and infrastructure investment has provoked anger and despair among many of the conference attendees from the built environment sector.