Off-site construction will be speed up delivery of new Harrow Arts Centre

Chris Dyson Architects has been chosen to design a new home for Harrow Arts Centre in north London.
The practice's winning proposal is intended to evoke the style of earlier farm buildings in the Hatch End and Pinner area, as well as referencing current neighbouring buildings which include a listed school and industrial buildings.
The brief from Harrow council requires rooms for public use and a suite of artists' studios and workspaces.
Chris Dyson said initial ideas include a sawtooth roof arrangement with pitched high-level glazing aligned to the north which would allow the opposite roof slope to accommodate south-facing solar panels. The north-facing rooflights would bring a consistent level of natural light into the studio spaces.
An L-shaped arrangement creates a "yard" space overlooked by classrooms at ground level and studios above.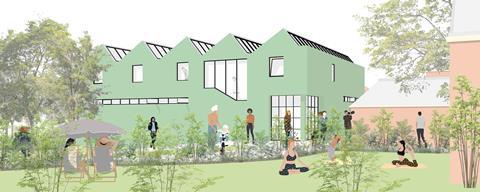 Dyson said: "Our aspiration is to design a new building with its own identity, responding to a specific programme while also sensitively complementing neighbouring heritage structures.
"Our intention is to create clear, legible and direct relationships with all external spaces."
The site is surrounded by the Royal Commercial Travellers School, a collection of industrial buildings, a boiler house, laundry and workshops.
The new building's external cladding is intended to respond to this architectural language, said Dyson.
Strong, slim beams and boards of laminated beech lumber made from 3 ply veneer layers will be constructed off-site and hoisted into position, reducing on-site time and improving overall construction quality.
A ground-source heat pump will be sunk close to an adjacent culvert to harness the lower temperature generated by the tunnelled river.