Architect's celebrated home tipped him into bankruptcy which triggered move to US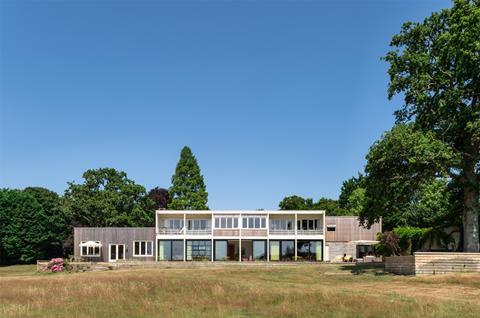 Bentley Wood, the 1930s house in rural Sussex designed by Serge Chermayeff for himself, his family and his art collection before it pushed him into bankruptcy, has been listed at grade II.
It is a key work of progressive English modernism and is considered to be one of the most important buildings built during the inter-war period in Britain.
Paintings and sculptures were originally displayed throughout, including works by John Piper, Ben Nicholson and Henry Moore, whose Recumbent Figure was commissioned for the garden.
The full-height sliding doors, split levels and semi-open plan arrangement create a sophisticated flow of space through the house and connect it with the wider landscape.
Bentley Wood, near Lewes in East Sussex, was first put forward for listing by the Twentieth Century Society 18 years ago but turned down because it had suffered such extensive alteration including extensions, window replacement and the enclosure of the first-floor balcony.
A number of these changes have been reversed thanks to the careful work of the most recent owner and the architect's intention is now clear to see again, said Emily Gee, Historic England's director for London and the south-east.
She added: "Bentley Wood is a key building designed by a major figure in English modernism and over 80 years later is still a striking contemporary home.
"It has served as inspiration for generations of architects, critics and fans of the modern movement and its special interest is being celebrated and recognised by it being added to the list."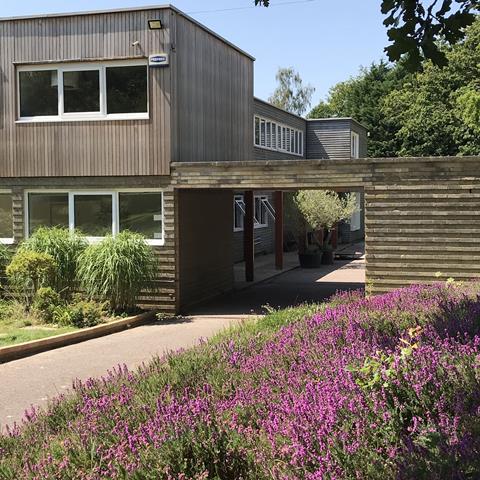 The decision was made by the DCMS on Historic England and supported by Twentieth Century Society.
The story of Bentley Wood, by C20
Designed in 1936, the same year Russian émigré Chermayeff completed the De La Warr Pavilion in Bexhill (about 20 miles away and now grade I listed) with Erich Mendelsohn, Bentley Wood was completed in 1938. Set in 18 acres of land with views over fields towards the South Downs it was Chermayeff's own home and was hailed as "a regular Rolls-Royce of a house" by Charles Reilly. With its sculpture and paintings and its extensive grounds (on which Chermayeff collaborated with Christopher Tunnard), it fused architecture, art and landscape into a memorable whole.
It is built of timber, both as structure and cladding, to reflect the vernacular surroundings but embracing the then recent acceptance of the material's suitability for modern architecture. Contemporary architects using timber in the modern idiom in England were Walter Gropius, Maxwell Fry and the lesser-known Anthony Chitty, a member of Tecton. Chermayeff received many important visitors at Bentley Wood, including Frank Lloyd Wright during his first visit to England in 1939, and Erno Goldfinger, who adopted the house's basic modular unit of 2ft 9ins in his own later designs.
Alan Powers, former chairman of C20 Society, who wrote a monograph on Chermayeff published by the RIBA, said of the house: 'It remained fresh in the minds of architects even in the 1950s, when most other pre-war modern houses seemed impossibly dated.'
Bentley Wood proved to be the demise of Chermayeff's career in England, as the costs of the house made him bankrupt. He sold it shortly after moving in, and left England for America.
Chermayeff had commissioned Henry Moore to create a sculpture for the grounds of Bentley Wood. The resulting artwork was Recumbent Figure (1938) in Green Horton stone which appears in old photographs, viewed from the deep box frame of the dining room window. Recumbent Figure did not remain at Bentley Wood for long. Although he had agreed a purchase price of £300 for the sculpture, he had only paid a £50 deposit. Because of his financial circumstances he proposed that the work be returned to Moore to sell to another client. Moore willingly took possession of the sculpture again and refunded the deposit. It now resides at Tate Britain.
Source: Twentieth Century Society