Conservationists furious over Halifax and Coventry cases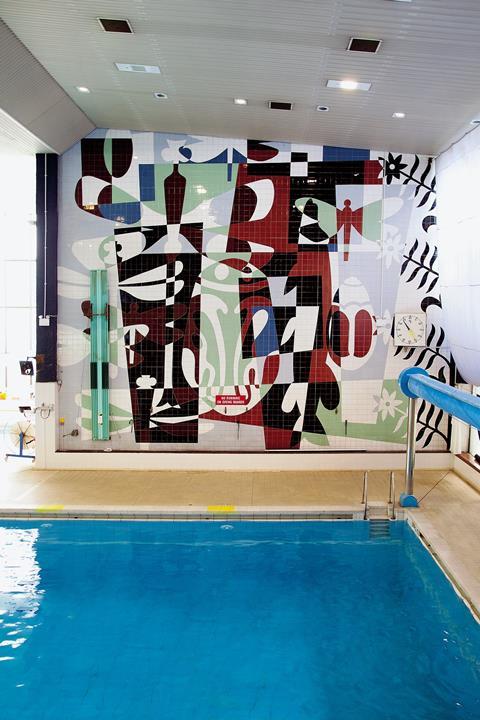 The Twentieth Century Society is demanding a review of listing policy for post-war buildings after an application for a 1960s swimming pool was dismissed for what it complained were "unconvincing" reasons.
The conservation charity warned that without re-evaluation at the highest level, Britain's modern architectural history was at risk of suffering irreversible damage.
It will be writing to the Department for Digital, Culture, Media and Sport (DCMS) setting out its fears and request for a review of policy.
"If things continue as they are for much longer, future generations will not be able to access a representative range of architecture from the past 70 years," said senior caseworker Grace Etherington.
Her comments came after Halifax Swimming Pool and its two distinctive internal murals were turned down for listing by Historic England.
C20 is currently preparing a request to the DCMS for the listing decision to be reviewed.
Etherington said: "We are naturally disappointed that our listing application was turned down. In most cases we accept the decisions made by Historic England's listing teams, although we do not always agree with their conclusions.
"This case is an exception as we feel that the building deserves a more thorough assessment, as the reasons for refusal are inadequate and unconvincing. The murals in particular have been dismissed without any explanation, which is not acceptable for an artwork of this size and intricacy."
The building was designed in the 1960s by FH Hoyles, the deputy borough architect, under the supervision of borough architect JL Berbiers and is under threat of demolition.
Etherington described it as "an admirable effort by the local authority to translate local distinctiveness into modern design" which did not overwhelm the historic character of its surroundings.
The two ceramic murals inside are by artist Kenneth Barden and are collages of British pond life.
"As a prominent piece by an artist mentioned in Historic England's guidance on post-war public art, and as the subject of a photograph in the Pevsner Architectural Guide for Yorkshire's West Riding, we expect more than an unsubstantiated dismissal," said Etherington.
The case of the swimming pool was representative of wider concerns the society had, she said.
"We have reached the point where more than just the crème de la crème of post-war buildings should be awarded listed status, as lots of smaller-scale contextual buildings, often designed by local authorities' in-house architecture departments, have been overlooked.
"It is the norm for good quality but not outstanding buildings from earlier dates to be listed at grade II, and we feel that listing policy should be updated to include a similar standard of post-war buildings."
In its listing assessment Historic England said: "While the [pool] is carefully designed to sit amongst the historic stone buildings of urban Halifax, it lacks the lavish architectural or engineering display, innovative planning and structural ambition which the best examples of this era display to justify their listing… While the exuberant, aquatically themed tile mosaics enliven the pool hall interior, their interest is not sufficient to recommend listing in their own right and their presence does not merit the listing of a building which does not otherwise meet the criteria for listing."
It also said it had been reassured by conversations with the chief executive of Calderdale council – which has plans to build a new pool elsewhere – that the murals would be protected.
C20 has also been campaigning against plans by Broadway Malyan and Burrell Foley Fischer for a new six-storey university campus which it said would envelop Coventry's grade II-listed Civic Centre 2 building.
Given planning earlier this month, Etherington said it was the latest nail in the coffin for Coventry's post-war architecture.
She said: "Having survived for over 50 years it would be tragic if Coventry's legacy were to be destroyed in the run up to 2021 when Coventry becomes the UK City of Culture. After a series of misguided planning decisions there is now a real chance that key components of the story of modern Coventry will not be left standing by next year."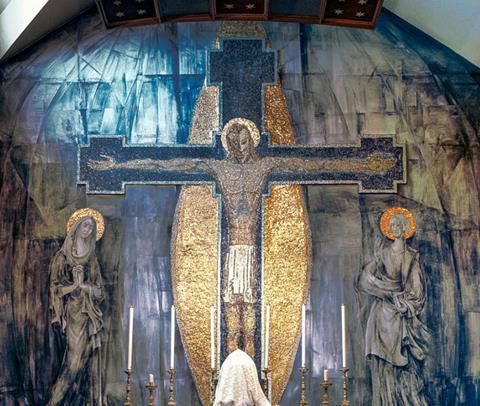 Meanwhile, conservationists are also fighting to save a significant post-war artwork in Oldham.
Save Britain's Heritage has written to Historic England urging them to recommend the listing of The Crucifixion by Hungarian artist George Mayer-Marton.
An unusual combination of mosaic and painted fresco completed in 1955 in Oldham's Church of the Holy Rosary in Lancashire, the 7.5m depiction of Christ is described as nationally significant but increasingly at risk of vandalism, theft or redevelopment since the church has been disused for three years.
Save's director Henrietta Billings said: "This is an incredibly rare, well-executed and important mural for Oldham and for England by a leading 20th-century artist and lecturer. It needs protection and national recognition through listing and Save is ready to help find a secure future for it."