Matthew Lloyd Architects' proposals will add 56 new homes to post-war Tybalds Estate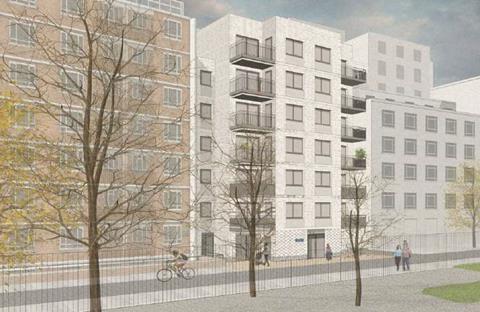 Matthew Lloyd Architects is set to get the go-ahead for infill plans that will add 56 new homes to the Tybalds Estate in Holborn.
Camden council planning officers are recommending the practice's proposals for the 360-home estate for approval at a planning committee tomorrow.
Lloyd's scheme would add the new properties in two terraces of mews houses of up to three storeys, three apartment blocks of up to seven storeys and "underbuild" units delivered in lower-ground-floor storage areas of three of the post-war estate's current blocks. The application also delivers a new tenants and residents association hall and adds a lift to existing block Devonshire House.
Built between 1947 and 1968, the Tybalds Estate sits between Theobollds Road and Great Ormond Street. It is made up of eight blocks: two 14-storey towers and six slab blocks.
The latest proposals come almost a decade after Camden approved infill plans created by Avanti Architects, Duggan Morris Architects and Mae Architects for the estate. Those proposals would have delivered 93 new homes, of which 66 would have been "affordable", but a report to this week's meeting said "challenges with the build cost" had rendered the project unviable and the consent expired.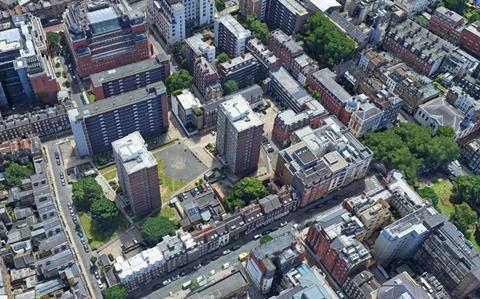 A report to councillors said the Lloyd scheme was "a scaled-down proposal for the estate" that would deliver 56 new units, exactly half of which would be "affordable" and half available at market rates. Of the affordable units, the report said 23 would be for social rent and five for intermediate rent.
Recommending the proposals for approval, officers acknowledged that at least some of the infill blocks would affect daylight and sunlight levels for the estate's existing homes. They said the impact would be "broadly in line" with that of the 2013 scheme, which had been considered acceptable on balance, although they conceded that for some homes the impact would be worse.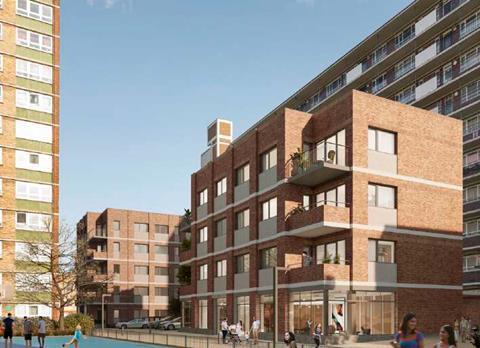 "The proposed new buildings are considered to provide architecture of high quality which make a positive response to local context, while at the same time providing high-quality homes," they said.
"Overall, the proposed development would provide much-needed new housing in the borough and would provide a good standard of accommodation for future residents."
Officers accepted that the latest proposals provided fewer new homes and fewer affordable new homes than the earlier proposals, but they said Camden's scheme sought to "deliver as much affordable housing as viably possible".
Government heritage advisor Historic England did not object to the proposals.
Camden's planning committee meets at 7pm on 17 February to consider the application.