Comment followed new tests showing insulation had continued to burn for 20 minutes after end of test
A former managing director of a building control body joked that the issue of a misleading certificate for a combustible insulation product used on Grenfell tower had been "burning for a LONG time".
Lorna Stimpson had been referring to a certificate issued by the Local Authority Building Control (LABC) for Kingspan's K15 insulation which wrongly suggested it was a material of 'limited combustibility'.
K15 was never specified for the disastrous refurbishment of Grenfell Tower but was found to be included in its cladding system following the fire which claimed 72 lives in June 2017.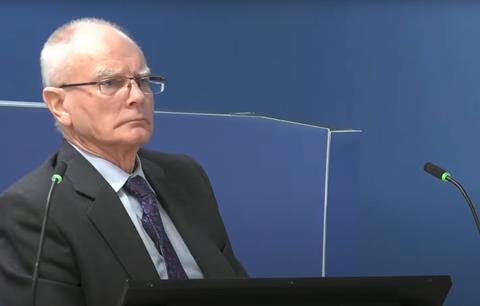 The LABC's certificate was used by Kingspan as a key element of its marketing material to help K15 gain a dominant position in the insulation market for high rise buildings.
Tuesday's hearing was told how the LABC ignored repeated warnings about the certificate's wording, which appeared to clear the product for general use above 18m despite relying on a test which had only passed because it had been used in combination with other materials.
Concerns were raised again in October 2014 by the National House Building Council (NHBC), another building control body, which said it was "unhappy with its use, and [is] looking for industry-wide shutdown".
The LABC was also told that fire tests of K15 had shown it continuing to burn for 20 minutes after the flame was stopped.
Thursday's hearing saw an email from former LABC director of technical policy Barry Turner in which he said he would talk with the NHBC but was "not going to say or admit to anything at this stage".
Inquiry counsel Kate Grange QC asked Turner: "Did you think at that point about issuing a warning to your members to say, well, there's a problem here, we've been issuing certificates for many years now for the K15 product and those certificates have inaccurate information on them?"
Turner replied: "I left it to the others that were dealing with the matter… to follow that up."
The inquiry was then shown an email by Stimpson, who is now LABC chief executive, in January 2015 in which she wrote: "This issue has been burning for a LONG time though, hasn't it? (Get it !!!!) Why is it raising its head again all of a sudden?"
David Ewing, then an LABC technical manager and now the body's head of education, replied saying that the NHBC special risks teams had been "jumping up and down" because several large sites were "all using the material outside of the tested specification".
Grange asked Turner: "Why wasn't the LABC jumping up and down, thinking to itself , 'Wow, K15's going to have been used on multiple projects because of our certificates for years, we need to get on top of this problem quickly'?"
Turner replied: "That is not a question for me to answer.
"The correspondence that you have indicated and that particular letter shows that it is being considered by LABC, maybe not as quickly as you infer it should have been, but it was being considered."
Turner had previously said the use of K15 outside of its tested scope was "an insurance issue rather than compliance with regs".
Referring to the email thread with Stimpson and Ewing, Grange asked Turner: "all we can see really is you saying it's a warranty insurance issue and you're not suggesting we should do any more. Why not?"
Turner said that he had been "repeating information passed to me by others."
Grange then asked: "So it never occurred to you at the time that there might be some pretty serious public safety considerations that LABC needed to be working through as a matter of urgency in relation to the K15 product?"
Turner responded: "Not as a matter of urgency. It was being worked through."
Earlier this week the inquiry heard how the LABC had sought a lucrative sponsorship deal with Kingspan, in which the insulation manufacturer was offered "direct outreach" to customers "through referrals".
Turner had said that the body needed income as it was not being provided by either the government or from local authorities.
Earlier this year, LABC building control officer David Jones told the inquiry how he had felt "pressured" by his employer into providing a certificate for K15.
The inquiry has also heard how Kingspan was a "significant source of revenue" for testing body the Building Research Establishment, and that the firm had threatened the NHBC with legal action after the building control body had exposed the flawed tests for K15.
The inquiry continues.