Bratislava campus designed to resemble the sloping foothills of the Carpathian mountains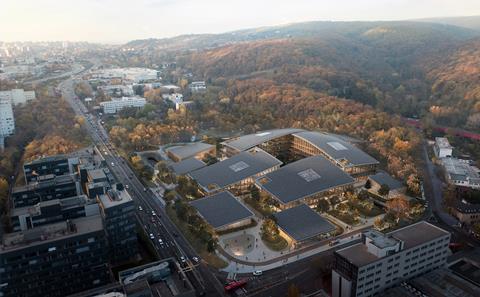 BIG has unveiled its designs for a tech campus in Slovakia which has been inspired by the rolling foothills of the Carpathian mountains.
The scheme, which is located in the forested outskirts of Bratislava on the 90,000sq m site of a former military hospital, will become the headquarters of cybersecurity firm ESET.
Its 12 buildings, arranged around a central courtyard, share a common roof profile which slopes upwards towards the centre.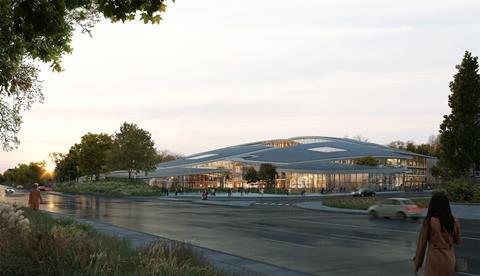 BIG founder and creative director Bjarke Ingels said the group of buildings resembles a "man-made addition" to the neighbouring mountains.
Four large buildings at the centre of the site will house ESET's 1,500 staff, with the potential to scale up to 2,400, while the lower buildings on the perimeter will be open to the public.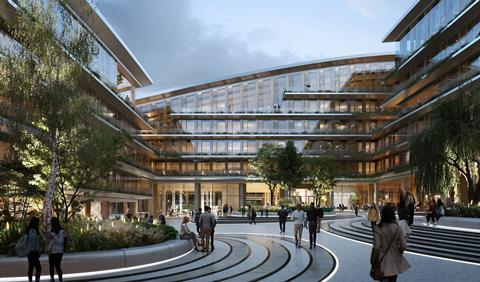 Ingels said: "Rather than a single hermetic entity, we have dissolved the ESET campus into an urban village of interconnected buildings, framing public paths and urban squares."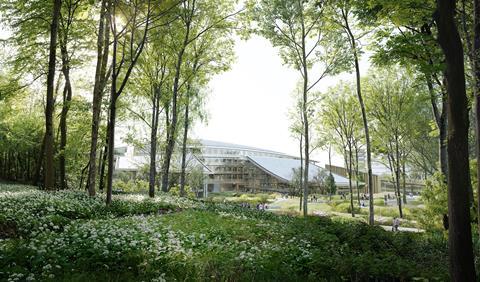 The all-electric campus will be powered mostly by renewable energy including ground source heat pumps and solar panelling on the roofs.
BIG was the winner of an international competition to design the scheme in 2019 and has worked with a project team including Buro Happold and Arup.
The campus is expected to break ground in 2024 with a planned opening in 2027.