Texas education and community centre commemorating abolition of slavery will cost $70m
Bjarke Ingels Group has revealed new images of the practice's plans for a National Juneteenth Museum in Fort Worth, Texas, which will commemorate the abolition of slavery.
Texas became the last US state to formally end slavey, with the emancipation order signed on 19 June, 1865. Juneteenth was declared a federal holiday in the US by president Joe Biden last year. It had been a state holiday in Texas since 1980.
BIG's National Juneteenth Museum – designed in collaboration with local practice KAI – will replace the Fort Worth Juneteenth Museum, founded by activist Opal Lee, on a site in the city's Historic Southside district.
The 4,600sq m structure will be made from timber and will host exhibits, discussions and events about the African-American road to emancipation. It will also have a food hall, a recording studio for sharing stories, a theatre and a business incubator. Its budget is $70m – £57m at today's exchange rates.
BIG project lead Douglass Alligood said a lot of the design principles underpinning the practice's proposals had been informed by working with Lee and other members of the community.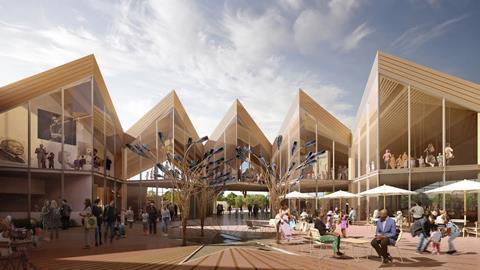 "The National Juneteenth Museum will be at the core of a vibrant centre to the long neglected Historic Southside," he said.
"Our hope is that this building will become a gateway to the Historic Southside community of Fort Worth while serving as a national and global destination. Juneteenth is not only American history—it is world history.
"As a black architect, this project is one of the most rewarding experiences of my career."
Work on the museum is expected to begin later this year.