Listed architect says turnover in UK has halved in past two years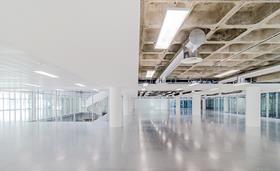 Aukett Swanke sank deeper into the red last year with the country's only listed architect racking up a £2.5m pre-tax loss.
The 330-strong firm said sluggish UK activity caused by Brexit uncertainty as well as a slowdown in the UAE meant that annual losses had ballooned from the £325,000 posted in 2017.
Revenue in the year to September 2018 slumped 22% to £14.4m with its workloads in the UK collapsing 45% over the past two years to stand at the firm's 2018 year end at £6.6m – down from the £12.1m it posted in 2016.
Aukett Swanke said its UK arm, which completed work refurbishing an office block (pictured) near Cannon Street last autumn for Knight Frank, racked up losses of £1.5m, half of which was put down to unsuccessful bid costs.
Chief executive Nicholas Thompson said it had reduced its cost base, which included cutting staff, and added: "This is leading us towards a UK breakeven allied with good trading from our European hub."
It added that the ongoing Brexit negotiations had held up schemes or seen some suspended which the firm said it had not been paid for.
It said that moving its head office from King's Cross to Bonhill Street in the City of London as well as consolidating offices in the UAE would save around £400,000 a year.
Revenue in the UAE slipped 21% to £6.8m with the firm posting losses of £1.2m from a £13,000 profit in 2017. It added that its business in the Middle East was dependent "on a change in market confidence".
Workloads in Russia and Turkey also fell, although the one bright spot was its German business which returned to the black.