Project involves working with flood defences
Architecture Initiative has submitted plans for a school campus on an area of protected Metropolitan Open Land in south east London's green belt.
The proposal, for the Department of Education, will provide a new home for the temporarily located International Academy of Greenwich and 765 pupils.
The site, currently a poorly maintained sports ground, was chosen after 23 others were assessed.
Lee Mainwaring, design director at Architecture Initiative, said the geometric design took account of the Environment Agency's flood defence wall to maximise the efficiency of the school building and enhance its relationship with the landscape.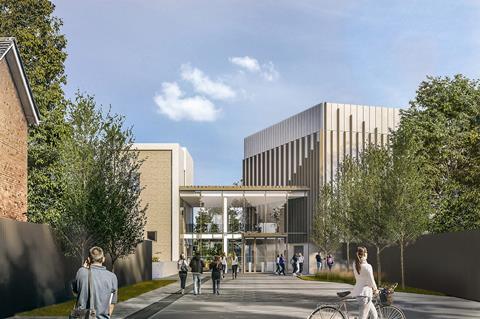 From the south the building appears to be cantilevered on a plinth providing all teaching classrooms with views across the Metropolitan Open Land.
On the north side the specialist teaching spaces and other accommodation are clustered together around a sunken courtyard, reducing its perceived mass and responding to the scale and character of the neighbouring residential property.
Mainwaring said: "Our carefully considered proposal sets out an outstanding level of design quality and will deliver a school that improves life not just for the pupils but for the wider community."
The school features green spaces and sports facilities that will be available for the public outside school hours.
The new buildings could be open for the September 2021 academic year.