East London school expansion will sit on off-limits ecology site
Construction is due to start on an Architecture Initiative-designed sixth-form building created to cope with the growth in demand at an east London secondary school.
The 30-strong practice was commissioned to create the new three-storey structure for Langdon Park School by Tower Hamlets Schools and the London borough's children's services department. It is the latest of a handful of education commissions within the borough.
Architecture Initiative said its design for the new block had been inspired by the original 1907 school building and neighbouring homes.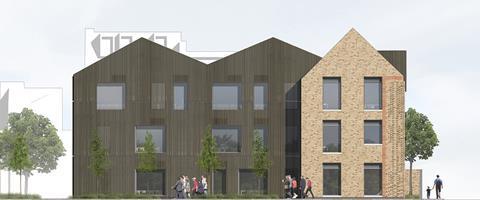 The new building, which is earmarked for completion in July next year, will feature eight teaching rooms, a collection of ICT rooms and social areas.
Architecture Initiative said it had used two types of cladding to highlight different uses, with key education accommodation clad in brick, while the main entrance and external stair cores wrapped in a timber rainscreen.
Design lead Lee Mainwaring said the new accommodation would pave the way for Langdon Park's sixth-form to expand to 200 pupils at the same time increasing the range of subjects on offer, "while improving the overall aesthetic of the school site".
The new building will be built on an "ecology site" at the school, which is currently fenced off with no access for pupils.