Johnson first PM to be honorary RIBA fellow since Churchill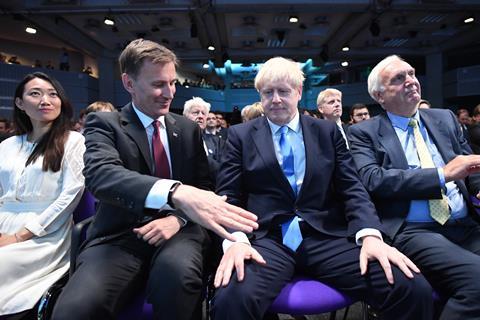 Boris Johnson has been named Britain's new prime minister after winning 66% of a vote of Conservative Party members.
Johnson is the first incoming PM to be an honorary fellow of the RIBA, an award bestowed when he was mayor of London in 2011. Churchill is the only other prime minister who was an honorary fellow, but that was awarded in 1941, while he was in office.
An attempt to have Johnson stripped of the honour – after the Garden Bridge debacle and other concerns about his fitness for office – failed in April. The move by RIBA Council student member Simeon Shtebunaev was triggered by concerns that Johnson would not live up to the RIBA's new code of conduct. The RIBA said honorary fellows were not bound by the code.
Johnson beat foreign secretary Jeremy Hunt by a landslide 92,153 votes to 46,656. Turnout among the 159,320 people eligible to vote was 87.4%.
RIBA president Ben Derbyshire reacted to Boris Johnson's appointment as Britain's next prime minister.
"If Boris delivers his threatened no-deal Brexit it would be a disaster for the development industry and homebuilding especially, with massive disruption to finance, the supply chain and movement of labour," said Derbyshire, who is also chair of architecture practice HTA Design.
"There is very little that either Michael Gove or Zac Goldsmith, both tipped for environment secretary, could do about that. But one might hope that either of them could make something of the proposed New Homes Standard, which needs to be a new zero carbon standard for all homes, not just new ones."
RIBA chief executive Alan Vallance said Johnson had a "mammoth task" on his hands, with Brexit, climate change and a safer, high-quality built environment the priorities.
"The global climate emergency is the greatest challenge the world has ever faced. With 40% of carbon emissions generated from the built environment, the PM must recognise how vital our profession is to ensure the UK meets the net zero target," he said.
"The unacceptable delay to reforming building and fire safety regulations since the Grenfell Tower tragedy must be urgently addressed. The PM must strengthen and expand requirements to ensure all our buildings are safe.
"Whether the UK should leave the EU without a withdrawal agreement has dominated this leadership contest. No deal would have disastrous consequences for UK architecture, risking access to talent and our ability to trade.
"We will engage with the new prime minister and his government immediately, ensuring the voice of architects is heard loud and clear."
Mark Middleton, Grimshaw partner and BD columnist, said: "The new PM needs to back the existing infrastructure commitments that have been made, primarily HS2 and the Heathrow expansion. These are important for our long term prosperity as well as job creation. He should also look at removing obstacles for local governments that are preventing them forging ahead with social housing schemes.
"I would hope that he produces a national statement which looks at infrastructure investment as well as renewable energy, transport and other areas of national social wellbeing that should be prioritised over the next 20 years to help bring the nation together; improving our collective prosperity and happiness."
Sally Lewis, director of housing specialist Stitch, said her office's feeling was: "Oh dear… keep calm and carry on.
"We have no expectation or hope that Mr Johnson will do anything positive for architecture or the housing crisis so we will keep plugging away on the ground doing our best in spite of it all.
"I hope that the recent streaks of positivity in workloads and projects moving forward won't be thwarted by today's news."
Robert Sakula of Ash Sakula said: "My reaction: lip-curling contempt for the Tory membership, continuing disgust about the Brexit mire, a faint hope that the worse things get the more chance there may be to snatch a second referendum. For architecture: more recession, less certainty, endless dreary delay."
Peter Barber said: "We'd be better off with someone like Aneurin Bevan whose ideas have been like sunshine in all our days these last 70 years. I think we need a new NHS: a National Housing Service providing shelter… free at the point of delivery."
Uncertainty surrounds many of Johnson's policies and in particular his intentions around key infrastructure projects. He has pledged to review HS2 which he said had a "dubious" business case.
And he also has a bumpy record on the expansion of Heathrow Airport. He once vowed to lie down in front of the bulldozers to stop the project - because his Uxbridge constituency is under the flightpath - but later arranged to be out of the country for the crunch vote when the Commons approved it. However during a televised debate this month with leadership rival Jeremy Hunt he said he had "the gravest reservations" about the £16bn expansion. As mayor of London he backed Foster & Partners plans for an alternative hub airport off the Kent coast dubbed "Boris Island", but these were dumped four years ago by a commission into expanding the country's airports capacity.
Aecom's UK & Ireland chief executive David Barwell said Johnson mustn't pull the plug on key projects.
He said: "I was extremely pleased to hear the promise of 'better infrastructure' in Johnson's acceptance speech and regardless of Brexit I would suggest a starting point for his plan to 'energise the country' would be to fully endorse schemes such as HS2, Crossrail 2, Northern Powerhouse Rail and Heathrow's expansion. All of which must proceed if we are to maintain our country's ability to compete on a global stage."
And Mark Sitch, senior partner at design and planning consultancy Barton Willmore, said the new prime minister's priorities should include investing in infrastructure as well as delivering well-designed, high-quality housing of all tenures across the country.
He added: "The arrival of the new prime minister is a major opportunity for the UK and through renewed support could help Britain to succeed in the current economic climate.
"It's essential that they find a way through Brexit to ensure certainty for the country that will encourage investment in housing and infrastructure and support economic growth."
Sitch also urged the new PM not to mess with the planning system.
He said: "Although this is an opportunity to win votes through public spending on new projects that would benefit the economy – or tax cuts like a slash in business rates that would benefit the high street – we hope that the new prime minister does not decide to disrupt the planning and policy environment. This would only serve to deliver even more uncertainty and potentially jeopardise private investment further as we prepare to leave the European Union."
Congratulations @BorisJohnson. Let's put aside our differences and work together to reverse police & TfL cuts, invest in affordable homes & secure further devolution to London - which you backed as Mayor. But I'll never stop speaking out against the catastrophic threat of Brexit.

— Sadiq Khan (@SadiqKhan) July 23, 2019
Sadiq Khan, Boris Johnson's successor as mayor of London, promptly offered the new Conservative leader his congratulations – but wasted no time in setting out his demands of the nation's next PM.
"Let's put aside our differences and work together to reverse police and TfL cuts, invest in affordable homes and secure further devolution to London – which you backed as Mayor," he said.
However Khan insisted he would "never stop speaking out against the catastrophic threat of Brexit".
The London mayor will also be aware that Johnson was at the forefront of redefining "affordable housing" during his tenure at City Hall.
Architect Tony Fretton tweeted his reaction:
Hopeless incompetent elected by unrepresentative body to head country at the worst possible time. @BorisJohnson enjoy your 5 minutes of fame before you joining Cameron in hell

— Tony Fretton (@T_Fretton) July 23, 2019
Brian Berry, chief executive of the Federation of Master Builders (FMB), said: "Boris the builder must build columns instead of writing them if he is to fix the housing crisis and restore the hope of home ownership to a generation.
"We will only reach the number of good quality homes we need, and at the rate we need them, if local house builders are freed up to build as many homes as the large house builders. We want to see Boris bring down the barriers facing construction SMEs, including those who repair and maintain our homes.
"If Boris is looking to cut taxes, then we suggest slashing VAT on home improvement works, as nine in 10 builders believe this is the single best tool in Boris the builder's toolkit to prevent an economic downturn post-Brexit. Bojo must restore the housing market's mojo to ensure that Brexit Britain is built on strong foundations."
More reaction
John Robertson, director of John Robertson Architects, said: "In my view Boris will be a deeply divisive PM. I believe that Brexit has been the worst thing that has happened to this country since the Second World War, and it's hard to believe it has been self-inflicted. We have watched confidence slump in the commercial sector over the last three years because of 'slow' Brexit, and the prospect of a 'no-deal' Brexit will make 2020 a very challenging year for the profession. It's difficult to be optimistic."
Femi Oresanya, a principal in HOK's London office, said: "I am sincerely hoping that Boris Johnson has said one thing during his election campaign to be become PM and now that he been elected by his party, he will do what is right for the UK and ensure that if we are to leave the EU; we do so with a deal. A no-deal will be a disaster for the construction industry.
"He is an experienced flipflopper and I hope that he will behave true to form."
Chris Romer-Lee of Studio Octopi said: "I can't really think of anything positive or constructive to say about him. It's simply bad bad bad. And add an extra bad if Rees Mogg becomes housing minister. I can't think of a time in my life more worrying, more depressing, more bleak for the country.
"If the outcome to the vote was catastrophic, this premiership is off the scale."
David Green, director of Belsize Architects, said: "Boris needs to get practical and down into the detail, something which will require some change on his part.
"Vanity projects of the kind he espoused at City Hall are not the priority. He needs to focus on the measures needed to create a really effective planning system, get funding to where it is needed to build houses and undo the damage inflicted by Right to Buy.
"Above all he needs to stop the damage to the construction industry from a bungled Brexit. The virtues of bungling through are not what we need from a PM."
Kunle Barker, projects director at design and build firm IH Flagship, said: "The new PM really needs to support young and growing architectural practices by ensuring they can get access to bigger local and central government contracts. At the moment, smaller practices are effectively excluded from these types of contracts due to the high turnover and PI requirements.
"Boris should make sure some contracts are split down into smaller portions so that smaller firms can pass the turnover and PI tests – or relax these completely for smaller practices."
Atkins president Philip Hoare congratulated Johnson and said: "We look forward to seeing the continued implementation of the national infrastructure plan, alongside the industrial strategy and sector deal partnerships, recognising the importance of a long-term vision to grow the economy and create more opportunities for people across the UK.
"With this, we hope the new prime minister will strive to gain cross-party support for the major, transformational projects and digital infrastructure needed to secure the country's future as a more productive, efficient and resilient player on the world stage."
And Neil Scroxton, managing director of Northampton-based MatchBox Architects, said: "Like him or not, Boris is brave with his policy towards those things architectural. The Garden Bridge project was exciting and would have created something different and special within the capital. If it hadn't got itself caught up in political point-scoring (which is the true cause of wasted public money), the cost would have been forgotten and we would all be enjoying it by now. His record on affordable housing as mayor was also pretty positive.
"So let's hope that in among all of the wiff-waff and kippers we get a prime minister that isn't afraid to continue to champion public projects that not everyone agrees with because architecture should be discussed and debated and piss some people off, just as much as it should delight others."
Postscript
What should Boris Johnson's priorities be? Email your comments to elizabeth.hopkirk@bdonline.co.uk