New 13-storey tower will include office and retail space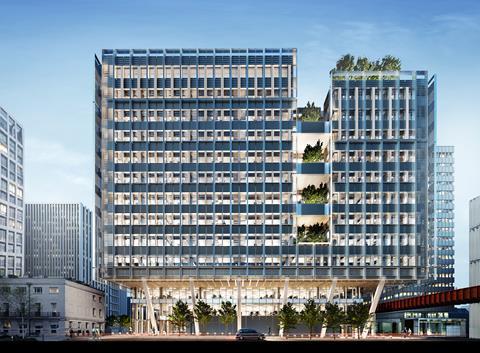 City of London planners have given the green light to Allies & Morrison's 13-storey office scheme in the shadow of the Square Mile's Guildhall.
Work will involve demolishing the existing postmodern building at 55 Basinghall Street, also known as City Place House, which was designed by Swanke Hayden Connell - now Aukett Swanke - and built in 1992.
The scheme, for Great Portland Estates, will also see the partial demolishing of 40 Basinghall Street, with some work also required at the grade II-listed 65 Basinghall Street.
It will include more than 44,500sq m of flexible office space, including some affordable space to support small businesses and start-ups, and more than 1,000sq m of floorspace for retail and hospitality uses.
It will also have a green roof and planted terraces for use of the building occupiers. There will be a re-landscaped public terrace and a contribution of £200,000 towards the enhancement and landscaping of the nearby Brewers' Hall Gardens.
Chair of the City's planning and transportation committee, Alastair Moss, said: "The new plans for City Place House are another striking example of the future of the Square Mile and the ongoing confidence in the City by urban developers. Ambitious office developments which consist of high quality, flexible office floorspace and which make exemplary contributions to the public realm are helping to cement the City's role as the world's leading business centre as we recover from the coronavirus pandemic."
Work could start on the scheme as early as next year